'Fat Scottish wanker'? It's just banter
Pantomime name-calling at football matches should not be a crime.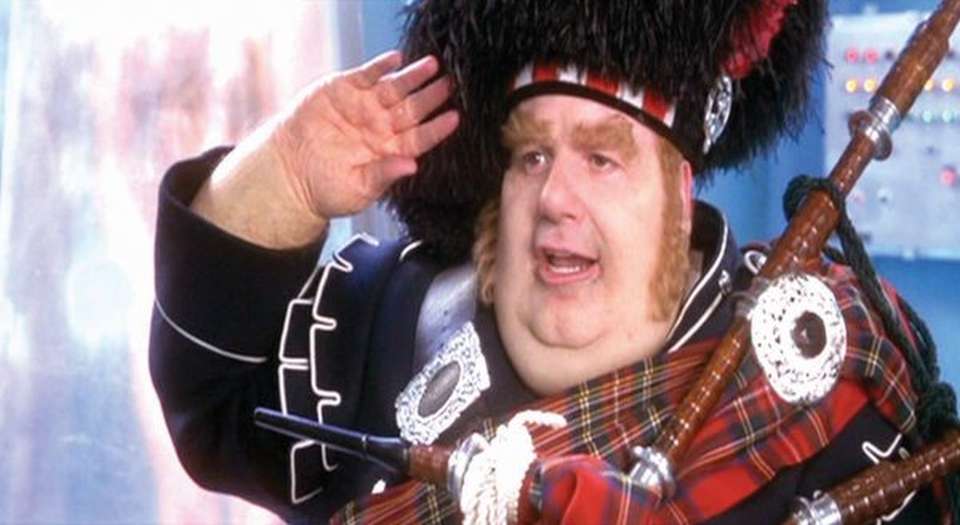 What's the world coming to when you can't insult a Scotsman without fear of being hauled before the beak? This isn't a dystopian nightmare; it's the reality of thin-skinned Britain in 2014. On Saturday 5 April, three Gillingham fans were arrested on suspicion of a 'racially aggravated public-order offence' after reportedly calling Rotherham manager Steve Evans a 'fat Scottish wanker' – or words to that effect. If the Gills fans are convicted, our society will have slid a little further down the slippery slope of intolerance.
Should it be a crime to call someone a 'fat Scottish wanker'? I don't believe it should. I'd hope that Scots wouldn't get their knickers in a twist over a bit of name-calling. However, while the phrase clearly isn't a term of endearment, I can't see how it is racist. Forget the dewy-eyed tosh of Braveheart; the truth is that the Scots are not an oppressed people. They're not regarded as foreigners. They're not treated as second-class citizens. They do not suffer employment discrimination. The 'No Irish, no blacks' signs that were once displayed by British landlords never applied to the Scots. Consequently, to call someone a 'fat Scottish wanker' isn't an expression of xenophobic hostility, unlike racial insults such as 'nigger' or 'paki'. It doesn't reinforce the message that Scots 'don't belong here'. It's just an insult. It's no more racist than calling the Welsh 'sheep shaggers' or Scousers 'hubcap thieves'.
They won't win prizes for wit or ingenuity, but many terrace taunts trade on regional stereotypes. In the context of a football stadium, these taunts are just 'banter'. The insults are made in jest. Does anyone seriously believe in these stereotypes? I doubt it. Equally, I can't imagine many fans on the receiving end are actually upset by the jibes.
The problem with contemporary anti-racism is that this once-progressive struggle for equal rights has degenerated into a reactionary purge of inappropriate language. Little wonder that insulting other nationalities, regardless of whether they suffer discrimination, is now seen as racism. If insulting a Scotsman is deemed to be racist, one wonders what the language police will outlaw next. Will it be a crime to abuse footballers with ginger hair? Will football fans be nicked for perpetuating regional stereotypes? Will fans be prosecuted for referring to opposition fans as pikeys, inbreds or dole scroungers?
You may laugh, but that is precisely what's happening in Italy. Last summer, the Italian football federation (FIGC) introduced tough new sanctions to punish 'territorial discrimination' – insults aimed at fans from other regions of Italy. Both Juventus and Milan have been hit with partial stadium closures as punishment for anti-Neapolitan chants.
The north-south divide has always been particularly pronounced in Italy. In the 1990 World Cup semi-final, Diego Maradona traded on the south's outsider status by urging the Naples crowd to support Argentina against the Azzurri. 'The Neapolitans must remember one thing', Maradona said. 'Italy makes it feel important one day of the year, but forgets about it the other 364.' But while parochial identities remain strong in Italy, the trading of regional insults is largely theatrical and ironic – just as it is in Britain.
Refreshingly, Italian fans have set aside their club allegiances to oppose these new restrictions. Even Napoli fans, who are often mocked for being impoverished and cholera-ridden, have demanded the right to be insulted. Last October, Napoli ultras unfurled a banner declaring 'Napoli colera, e adesso chiudeteci la curva' (Naples – cholera-sufferers. Now close our stand). Ultra groups from other clubs have also staged coordinated protests against the clampdown.
Football fans in Britain should follow the laudable example of the Italian ultras. We need to stick up for our right to insult each other. Spurs fans defied the threat of prosecution for use of the word 'yid' by chanting 'We'll sing what we want'. It's a maxim that we should apply to all forms of offensive chanting. We should defend the right of Gillingham fans to insult a Scotsman. And, while it might stick in our craw, we should also oppose the criminalisation of racist chants. Freedom of speech should have no strings attached. Insults and name-calling shouldn't be prohibited no matter how loathsome the sentiments expressed.
Does this mean that we should turn the other cheek to terrace racism? Certainly not. The approach I'd advocate is self-policing. Fan should take matters into their own hands. Confront the bigots, argue with them, drown them out with boos. But don't call the cops. As I've frequently argued on spiked, once you outlaw one type of offensive speech, it becomes very difficult to draw the line. We start by making racist chanting unlawful. Next, we ban homophobic chants. Then Old Firm war songs. And now, as the Gillingham case illustrates, bog-standard terrace banter is criminalised. That's how the illiberal logic of offence-seeking plays itself out. As I said, it's a slippery slope. And, unless we make a stand, it will end in tyranny.
Duleep Allirajah is spiked's sports columnist. Follow him on Twitter @DuleepOffside.
To enquire about republishing spiked's content, a right to reply or to request a correction, please contact the managing editor, Viv Regan.