Kurt Cobain: fear and loathing of the fans
How Nirvana killed the spirit of youth culture.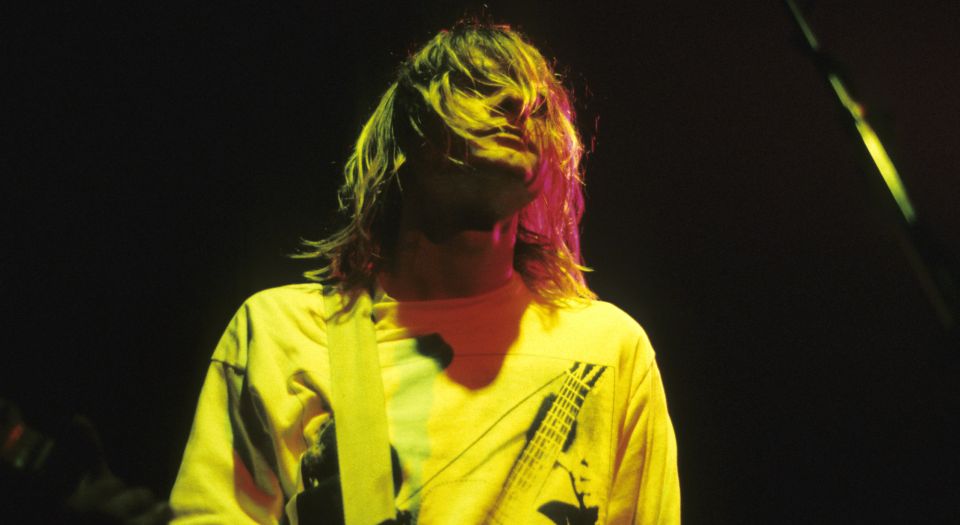 This weekend marks 20 years since the death of Kurt Cobain. The caustic Nirvana frontman, troubled fuzz-boxed minstrel and figurehead of America's disaffected suburbanites was found dead in his Seattle home on 8 April 1994. Addicted to heroin, plagued by an undiagnosed stomach condition and fiercely paranoid, he had taken his own life three days prior.
Leaving behind his wife, Courtney Love, and his one-year-old daughter, Frances Bean, it was an unqualified tragedy. But it appeared to both his most devoted, angst-ridden fans and worrisome conservatives – who had watched the rise of grunge and its favourite son with a heady mix of concern and disdain – as a darkly fitting footnote. He had become the rock martyr to a generation of broken youth.
The tributes that have been written to Cobain in the past few weeks have attempted to dodge the morbidity which surrounds his memory. The cover of this week's NME is adorned with a cartoon of the unmistakable, Nevermind-era Cobain, with stripey t-shirt and white oval shades, next to the words: 'Forget the drugs and the shotgun: it was always about the music.' In February, the unveiling of a statue of Cobain in his hometown, complete with a single tear rolling down his cheek in a mawkish nod to his troubles, was slammed across the internet.
But, try as we might, it's impossible to separate the man from the music. Cobain was widely hailed as the last great rock icon – someone whose life, work and time coalesced to form one totemic legend. Any claim that pop music, in and of itself, can attain some level of immortality, as if, like the great works of antiquity, we can easily separate the work from the man and the myth, is ludicrous. Popular culture is always intertwined with the conditions, and often the person, that helped create it and make it cool. The question, two decades on, is what do we make of it all; of Nirvana, Generation X and Cobain himself.
The slacker generation marked a clear decline in rock youth culture, the point at which all that once made it vital, exuberant and exciting collapsed. Generation X was not about young teenagers railing against an unjust society; it was about teenagers cutting themselves off from it and sneering at all the bigoted sheeple. On the day that Bikini Kill frontwoman Kathleen Hanna famously spray-painted the words 'Kurt Smells Like Teen Spirit' on the walls of Cobain's flat, giving birth to the name of an anthem, Cobain, Hanna and a gaggle of their mates had been out spraying 'God is gay' on religious centres. In the scrawled liner notes to Nirvana's 1992 compilation Incesticide, Cobain wrote: 'If any of you in any way hate homosexuals, people of a different colour, or women, please do this one favour for us – leave us the fuck alone! Don't come to our shows and don't buy our records.' Of course, it's unlikely many Nirvana fans were card-carrying bigots or fundamentalist Christians – but that didn't matter. Teenage rebellion had given way to putting the fucked-up world to rights in the confines of your box bedroom.
Great rock music needn't be political. The only person who thinks rock can change the world is Bob Geldof. But the Boomtown Rats were shit. And Live Aid did more for his ego than it ever did for needy Africans. But pop can give voice to a sense of hope and aspiration, and bind together a generation in pursuit of a common, if short-lived, goal – whether it's changing the world or just getting off your nut. As Ludovic Hunter-Tilney noted in the Financial Times this week, the idea of the slacker who forcibly resisted the mores of starch-collared society has been intrinsic to youth culture since the Sixties, but where the bedraggled Woodstock pilgrims 'turned on, tuned in and dropped out', grunge was, he notes, 'all about the dropping out'.
Cobain disdained his own success, mainly because it meant people he didn't like might like him. 'Smells Like Teen Spirit' and Nirvana's platinum-selling second LP, Nevermind, sent his band into the rock stratosphere, but the idea the jocks he hated in high school might be buying his music sickened him. Their follow-up, In Utero, which enlisted lo-fi legend Steve Albini as producer, was an attempt at culling the unenlightened from their fanbase. The original mixes, before their record label softened them up, were vicious, lacking the more tuneful accessibility of Nevermind that helped catapult the band from Seattle basement bars to suburban minivan tape-decks. It was a calculated move, and one that, to Cobain's chagrin, didn't come off.
An almost visceral misanthropy runs through Cobain's work. In Utero's 'Scentless Apprentice' was inspired by the odourless antihero of Patrick Süskind's Perfume, who is disgusted by the stink of mankind: 'I can relate to that', quipped Cobain in an interview. But this disgust for humanity went both ways: as Chuck Klosterman remarks in Eating The Dinosaur, 'overt self-hatred defined the totality of [Nirvana's] being'.
Nirvana both embodied and negated all that traditionally gave popular culture meaning: they were ambitious, but hated being popular; people loved them, but they hated people; they thought society was shit, but wouldn't have changed it for the world. 'They always seemed like a group producing popular culture against their will', Klosterman writes.
Cobain's place in rock history is well earned. He left behind a sadly truncated canon of hard-edged, fraught and often beautiful songs. And like no other of his peers, he embodied the spirit of navel-gazing disaffection that defined Generation X. That is, rightly, his most salient legacy; forget the gory details of his death and his fraught personal life. But while Nirvana's music stays with us, a stalwart resource for teens to listen to and thrash out their angst, we should hope that the sentiment he so perfectly articulated has all but faded away.
Tom Slater is assistant editor at spiked.
To enquire about republishing spiked's content, a right to reply or to request a correction, please contact the managing editor, Viv Regan.