Why Libya should haunt Cameron's nightmares
David Cameron thinks of Libya as his 'happy place', but it is far from happy today.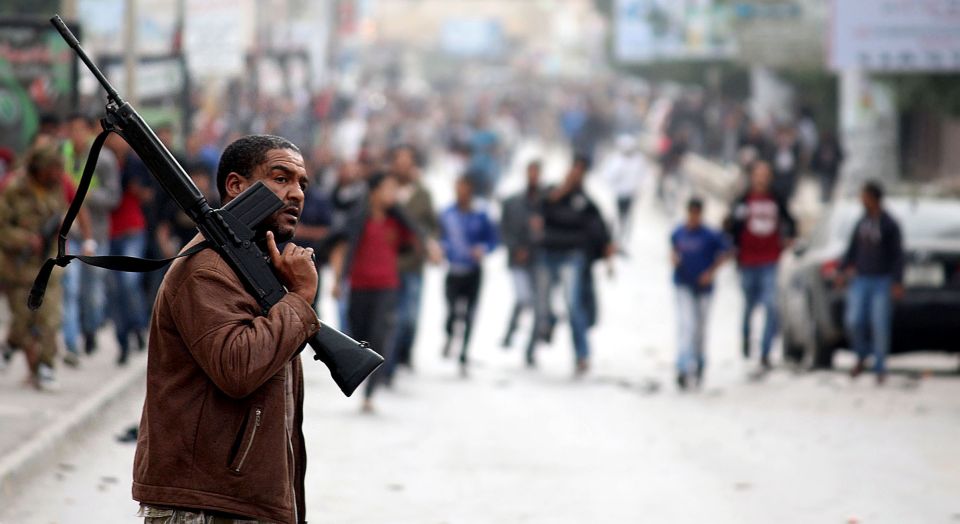 A recent very good article in the Spectator claimed that UK prime minister David Cameron, when facing tough times, thinks back to his intervention in Libya as his 'happy place' – a place where he can feel assured that he has done some good. Has he read a single news report on Libya in the past three years?
Perhaps Cameron's advisers have decided to keep his happy place happy by spiking all intelligence briefings from Libya. At least that way Cameron can continue to wallow in his October 2011 moment of post-Gaddafi triumph. 'People in Libya today have an even greater chance after this news [of Gaddafi's death] of building themselves a strong and democratic future', he said at the time. 'I am proud of the role that Britain has played in helping them to bring that about.'
There must be some explanation for Cameron's ignorance, because Libya today is about as far from a happy place with 'a strong and democratic future' as you can get. And a large part of the reason for this is the short-sighted, half-baked meddling by Cameron and his Western allies, who in 2011 blew Libyan infrastructure to pieces, before making a rapid exit and declaring victory before the dust from their bombs had even begun to settle.
To a large degree, it's hard even to talk meaningfully about Libya as a nation state anymore. Over the past three years, it has fragmented into city states. There is ongoing speculation that Libya's third-largest city, Misrata, may declare independence. And Benghazi and surrounding areas in the east of Libya have long been acting autonomously, to the extent that a commentator for the Financial Times recently asked if it's time for the West to recognise the independence of the eastern coastal region of Cyrenaica.
The central government in Tripoli certainly has little control over events in the rest of Libya, which is ruled by up to a thousand militias. New accounts of the government's impotence emerge daily, and range from the militia-related kidnap of now-former minister Ali Zeidan from his hotel room last October, to last week's bomb explosion on the runway of Tripoli International Airport, apparently one of Libya's most secure sites. The deputy prime minister, Sadiq Abdulkarim, narrowly escaped an assassination attempt at the end of January, three weeks after the killing of the deputy industry minister, Hassan al-Droui, in Sirte.
Recent attempts to unify Libya through the drafting of a constitution have been met with apathy from Libyans. Only a 'paltry' 500,000 people turned out to vote in February's vote on the draft constitution committee, compared with three million for the 2012 parliamentary election.
Libya sits on a tremendous wealth of oil, which should be enough to secure relative prosperity for its six million citizens. However, three years on from Western intervention, the amount of oil being produced has fallen sharply, and shows little sign of recovery. Prior to intervention in 2011, 1.7million barrels of oil were being produced every day. This has recently shrunk to 1.2million barrels a day, with recent blockades by militias meaning as little as 230,000 barrels a day are now being produced.
Should Libya's virtual implosion fail to disturb Cameron, there's also the knock-on effect of his intervention, which is now spilling into other countries. Earlier this month, a militia in eastern Libya sold a tanker's worth of oil to the bête noire of the West, North Korea. Only the US navy prevented the oil's export, an intervention which led to Zeidan being forced to stand down as prime minister due to a vote of no confidence (making him the second Libyan prime minister to stand down since 2011).
And what of those rebels Cameron, Sarkozy and Obama bombed a path for in 2011? Many have now made their way to Syria to fight for al-Qaeda affiliates. In addition to this, the black market has been 'flooded' by Gaddafi-era weapons. As a recent New York Times investigation discovered: 'Extremist fighters, some of them aligned with al-Qaeda, have the money to buy the newly arrived stock, and many rebels are willing to sell.'
The aftermath of the West's intervention in Libya should be seen as the stuff of nightmares, not a moment of glory. Yet the mess left in Libya is ignored as the West now concentrates its attentions on Ukraine. Some commentators have now started to use the parlous state of Libya to argue that Western governments must demonstrate that they've thought through the consequences of intervention before going to war. But the clear lesson from Libya – as well as from Iraq, Afghanistan and Syria – is that the consequences of Western interventions are always likely to be chaotic.
Patrick Hayes is a columnist for spiked.
Picture: PA
To enquire about republishing spiked's content, a right to reply or to request a correction, please contact the managing editor, Viv Regan.