Leave the Yids alone
It should be no business of coppers what football fans chant at games.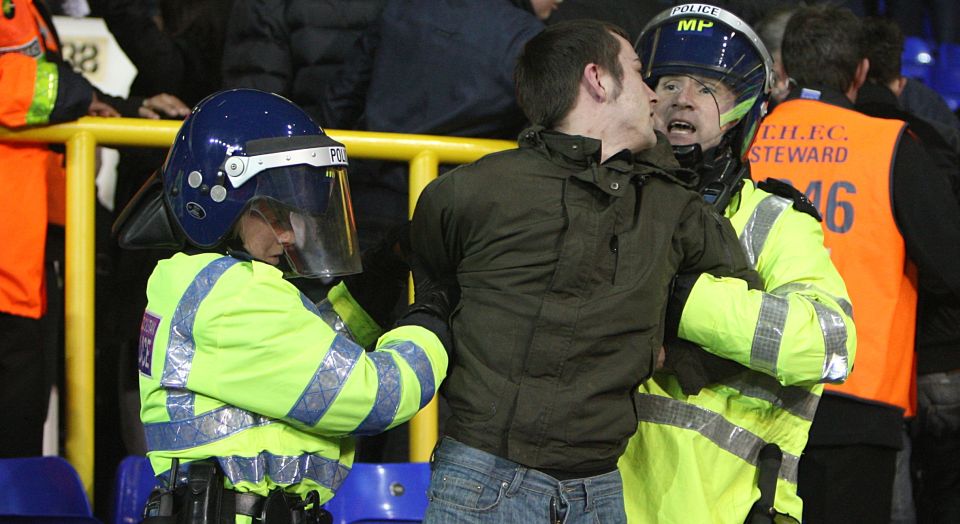 Last week, the UK Crown Prosecution Service (CPS) announced that it was dropping charges against three Tottenham Hotspur fans who had been accused of using words that were 'threatening, abusive or insulting'. Or, more precisely, one word: 'Yid.' But while the authorities might have seen sense on this case, their clampdown on football fans' speech looks likely to continue.
In a statement, Baljit Ubhey from the CPS said: 'In accordance with our duty to keep all cases under review, we have conducted a senior level review of [the Spurs fans] case. It has now been concluded that, according to the Code for Crown Prosecutors, there is insufficient evidence to provide a realistic prospect of conviction… In considering whether a criminal offence could be proved, we have to look objectively at the words used, and the context in which they were used.'
The all-important word here is 'context'. It was always absurd to argue that Spurs fans' use of the term 'Yid' to describe themselves could be 'threatening, abusive or insulting'. To pursue the matter would have demanded that the Metropolitan Police and the CPS threaten to arrest tens of thousands of fans for the 'crime' of singing about themselves.
But that didn't stop the police and the CPS from putting three innocent fans through the wringer before dropping the case. As Martin Cloake and David White point out, the three fans were messed about, bailed three times, and left in a state of considerable uncertainty about their fate. As the defence lawyers noted in a statement: 'Any organisation or individual that sets out to brand Spurs fans' use of the word "Yid" as being racist runs a high risk of being perceived as pursuing other self-serving agendas. We urge them to focus their attention on those who are clearly using threatening or abusive words or behaviour towards others based on hostility or hate towards others race or religion.'
The authorities – and football's anti-racist campaigners – might take that last piece of advice. It's clear that the Football Association and the Kick It Out campaign would still like to see other fans arrested and charged for using the Y-word. Indeed, Kick It Out has organised a debate at Manchester Jewish Museum next month to discuss anti-Semitism in football. No doubt there will be lots of tutting about what fans sing and shout. Of course, when supporters of teams other than Spurs use the Y-word, they are likely to be far less polite than fans at White Hart Lane. Some will say it merely as a way of annoying Spurs fans, who include a sizeable Jewish contingent; others no doubt use it as a term of anti-Semitic abuse.
The real issue is not the absurdity of the collapsed case against three Spurs fans but rather the broader assault on free speech at the football. As it stands, if the authorities or a bystander decides that the word 'Yid' is being used in an abusive manner, charges could still be brought. Since the Macpherson Report in 1999, the notion of racism has become entirely subjective. Offence is now in the eye of the beholder, regardless of the intent behind the words.
There is only one way to escape this dangerous bind: to stop criminalising speech. As spiked has argued throughout the controversy over the attention given to Spurs fans' use of 'Yid', as well as in articles about anti-sectarian legislation in Scotland, the long arm of the law should be kept well away from the terraces, where the language is always fairly industrial. Today, it is racist and sectarian comments that are attracting opprobrium; tomorrow, it could be anything that another person deems to be abusive.
If an individual or a group of fans is violent towards opposition fans, or even simply makes a direct threat against them, there are plenty of laws already in existence to cover such situations. But there is no need for the authorities to be involved in policing chants or songs. If we allow speech to be criminalised, then any and every comment made in the heat of a football match could potentially land someone in court. Far better to maintain the principle of free speech, no matter how annoying or offensive someone's comments may be.
In the name of anti-racism, Kick it Out and the FA have become a lobbying group for the criminalisation of football fans. The best result would be to kick censorship out of football.
Rob Lyons is associate editor at spiked.
Picture: PA
To enquire about republishing spiked's content, a right to reply or to request a correction, please contact the managing editor, Viv Regan.