How 'red' Tony Benn became a 'national treasure'
Benn may have fought on, but Bennite politics died when the Berlin Wall fell.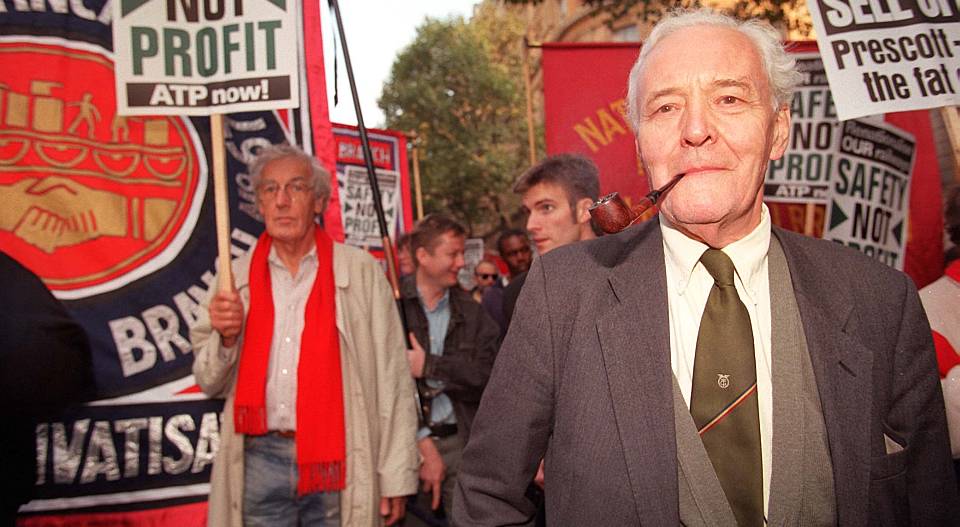 The near-universal posthumous praise heaped on Tony Benn reflects the personal esteem enjoyed by the former Labour cabinet minister, who died last week aged 88. It is also, however, a sign of Benn's ultimate political impotence. After all, if the left-wing Labour politics that he embodied represented any real force or threat to the status quo today, it is unlikely so many in the media and political elite would have felt disposed to talk about him as some sort of 'national treasure'.
When I was a member of the Revolutionary Communist Party and editor of its magazine, Living Marxism (both deceased), I spent much of the Eighties and early Nineties arguing against Benn and his radical acolytes around the Labour left. As the man himself insisted, such disagreements were always about 'policies, not personalities'. He remained the old-fashioned model of charm and eloquence (albeit with a tendency towards windbaggery) whom friends and family have spoken about so warmly since his death.
In politics, too, there were positive things about Benn, particularly in contrast to the Lilliputian Labour politicians of today. He retained proper democratic instincts and defended the importance of parliamentary sovereignty, even though he acknowledged that elections were 'little more than a means of securing a periodical change in the management team, which is then allowed to preside over a system that remains in essence intact'. Benn consistently opposed Britain's membership of the EU on democratic grounds, called for the abolition of the unelected House of Lords, and, towards the end of his career, proposed replacing the British monarchy with a republican commonwealth – all arguments with which spiked has a lot of sympathy.
In recent years, Benn was also one of the few to take a stand against advancing state intervention in family life. In 2006, New Labour prime minister Tony Blair suggested that the state should intervene in 'problem' families to spot potential trouble-makers before they are born. While serving politicians nodded along in agreement, the former leader of the Labour left was rightly outraged. 'This one about identifying troublesome children in the fetus', Benn observed with typical understatement, 'this is eugenics, the sort of thing Hitler talked about'.
All that being said, the outlook that became known as 'Bennite' did have a seriously negative impact on radical politics in Britain. For Benn and his supporters, 'socialism' equalled state control of society (which was one reason why some of us on the anti-statist left never called ourselves socialists). Benn became the most prominent state socialist in the country, first as a cabinet minister and then as the figurehead of the Labour left in opposition.
As postmaster general in the 1960s, Benn led the Labour government's attempt to tame popular pirate radio stations and maintain the state's monopoly of the airwaves. (Some keepers of his legend would like to pass over this episode; hence in the execrable movie The Boat that Rocked, arch Labour-luvvie Richard Curtis depicted the government minister at war with the pirates as a raving right-wing Tory.)
Benn became famous for apparently growing more radical as he got older (Labour leader Harold Wilson said 'he immatures with age'). As a cabinet minister in the 1970s, he was a key advocate of the Labour left's Alternative Economic Strategy for state control, an illusory left-wing version of Little England politics. This utopian and reactionary scheme helped pave the way for the Labour government's wage-restraint policies, which imposed the biggest fall in working-class living standards since the Second World War and led to the mass strikes of the 'winter of discontent' that ushered Margaret Thatcher's Tories into power. Benn's attachment to the British state also led him to a foreign policy we might think of as alternative imperialism, as when he favoured strangling Argentina with economic sanctions rather than military force over the Falklands, and called for British troops in Northern Ireland to be replaced by United Nations forces.
The 'Benn for Deputy' campaign, which narrowly failed to oust Denis Healey as deputy leader of the Labour Party in 1981 (Benn refused to stand for leader against Michael Foot), was widely hailed as the modern highpoint of the Labour left. Yet for all his popularity within relatively small radical circles, Bennism had little purchase in wider society. Thus Labour, with a manifesto heavily influenced by the left, was wiped out by Thatcher in the 1983 General Election – a result that Benn memorably hailed as a victory for socialism.
In fact, it was arguably a sign of how marginal the British left had become that somebody such as Benn could rise to be its most prominent figure. Benn was more like a nineteenth-century liberal – of the sort who became state socialists in the early twentieth century – than a modern political leader. He was a renegade from the English elite, born into the aristocracy, who renounced his title in order to become a Labour MP. This was also true of other British leftists, from the early Fabians to the Cambridge set of Soviet spies, whose change of allegiance reflected the loss of confidence and authority of the British ruling class over the past century.
What was striking about Benn, in contrast to previous leaders of the Labour left, was that he had neither deep roots in the labour movement – unlike, say, Nye Bevan – nor any serious engagement with Marxism, unlike the Stafford Cripps generation of British radicals. Despite Benn's attempt to disown his background – he removed references to his private schooling from Who's Who – the irony is that his privileged education undoubtedly contributed to the erudition and oratory that made him stand out from the crowd. Yet no amount of rousing speeches could overcome the isolation of the left under the leadership of this maverick individual.
Benn's political legacy was to help reconcile a generation of radicals to remaining trapped within the orbit of the Labour Party, even as it plummeted towards extinction. One of the few criticisms levelled at him over the past week is that he was a 'divisive figure' in Labour politics. No doubt he helped to alienate those on the right who left Labour to form the SDP. Yet on the left, Benn's role was always to seek to bury political differences and awkward questions – 'so long as we're all socialists', he would say – and to retain support for the Labour Party and trade-union leaders. This was never clearer than during the miners' strike of 1984-5, when he acted as unconditional cheerleader for Arthur Scargill's divisive and disastrous strategy.
If the defeat of the miners dealt a serious blow to members of the Labour left, the collapse of the Soviet Union was even worse for them. The likes of Benn may not have been Stalinists. Yet their state-socialist politics were heavily reliant, both intellectually and morally, on the survival of 'actually existing socialism' in the Soviet bloc. Once the Stalinist Soviet regime was reduced to rubble – described by former Labour MP and Benn disciple George Galloway as the worst day of his life – state socialism had nowhere left to stand. Tony Benn carried on the fight until last week. But as a political outlook, Bennism died when the Berlin Wall fell.
Once the left had been politically vanquished, Benn (along with his old ally, Dennis Skinner MP) could be reduced to the role of relatively harmless populist entertainer, an old-time music hall turn to give a warm feeling of nostalgia. This is what made him ripe for repackaging as a 'national treasure' – which, we can be sure, is the last thing he would have wanted. It seems ironic that the man of principle who insisted he was concerned with politics rather than personalities should finally have become a sort of celebrity socialist, the leader's personality helping to hide the hole where the lost movement of the left was supposed to be.
Mick Hume is spiked's editor-at-large. His book, There is No Such Thing as a Free Press… And We Need One More Than Ever, is published by Societas. (Order this book from Amazon(UK).) Visit his website here.
Picture by: Neil Munns/PA Wire/Press Association Images
To enquire about republishing spiked's content, a right to reply or to request a correction, please contact the managing editor, Viv Regan.