Grindr and Tinder aren't wrecking romance
The popularity of sleazy hook-up apps isn't to blame for the crisis of intimacy.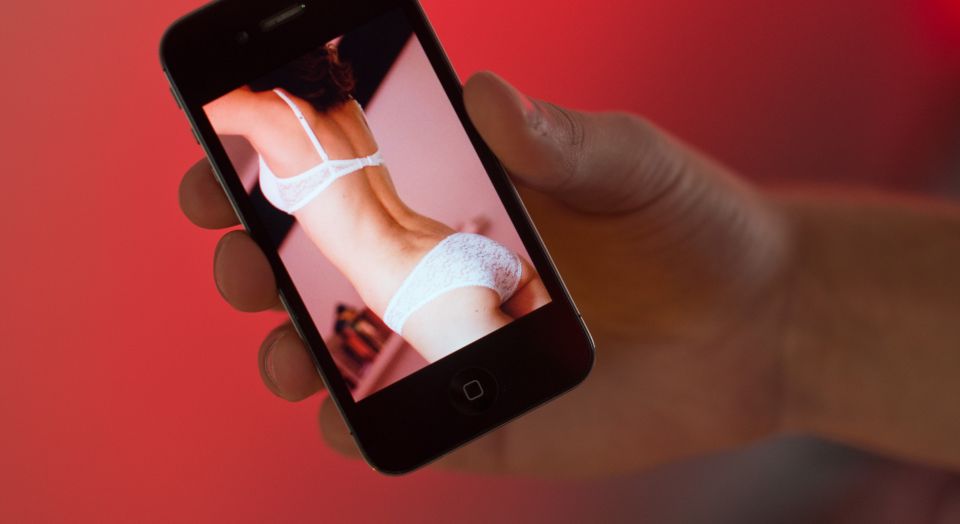 In these increasingly cynical times, sneering has become as much a Valentine's tradition as the obligatory 'don't buy me anything' charade and, following a good row, the hasty dash to the petrol garage. The moaning once consigned to embittered singletons has found expression in recent years through the language of anti-consumerism and environmentalism. One article this week lamented the arrival of the 'overpriced flowers, tacky heart-shaped chocolates and the distant sound of a stampede to the card shop', before going on to recommend a range of 'ethical' Valentine's gift alternatives. (All of which, ironically, are rather expensive; money can't buy you love, but you'll need a fair wad of it if you want to source your sweetheart some 'slave-free' chocolate truffles.)
Still, the attacks on Valentine's Day came in a somewhat more covert form this week, too, with renewed concern about the preponderance of 'hook-up' apps and the havoc they're supposedly wreaking on good-old-fashioned romance and intimacy.
Grindr – a mobile app which enables gay men to message, swap pictures and arrange saucy rendezvous with nearby strangers – came under pressure from the National Crime Agency to ensure users observed the service's 17-and-over age restriction. Speaking to BBC News, one former Grindr user said he downloaded the app when still coming to terms with his sexuality aged 13. While he was simply looking for a way to talk to gay men he quickly found himself in a sexual relationship with a 24-year-old man. 'Looking back, he was grooming me', he reflected.
There's little to suggest this is a widespread problem, not that this stopped officialdom from trying to stoke up panic. 'Just because we've not received huge reports doesn't mean this isn't a major issue', said the NCA's head of education. Of course, developers should take proportionate steps to keep children away from adult services and materials, but the brow-furrowing over hook-up sites isn't limited to concerns over exploited children.
Indeed, for many the rise of the hook-up act speaks to a deep-seated crisis of adult intimacy. One Telegraph writer suggested Grindr was 'fostering a set of unhealthy and risky behaviours' and would undoubtedly lead to a 'generation of emotionally damaged gay men looking back on a life spent surfing around gay mobile apps and feeling… a little empty'. Meanwhile, Tinder, a similar 'sex satnav' app aimed more at straight users, has provoked yet more necklace-clutching, in that it supposedly leads men, in particular, to treat women as 'sexual service stations'.
All of this, it is assumed, is a symptom of our supposedly 'pornified' world. In a society in which porn is instantly accessible and lewd, if not fully pornographic, imagery has become the wallpaper of everyday life, the hollow quest for sexual gratification has become normalised – or so the reasoning goes. The more shrill commentators argue that this is leaving children, and particularly women, open to exploitation and sexual violence.
There is no conclusive evidence linking porn consumption and sexual violence. At worst, it could be argued that young people have a somewhat unrealistic expectation of sex, and a tendency to think more niche sexual practices are the done thing. Undoubtedly, sexual intimacy has become something of an anachronism – sex has been effectively recast as a means to physical release rather than emotional intimacy. But the ubiquity of porn and the rise of the hook-up site are simply symptoms of a more deeply rooted crisis.
As Frank Furedi has pointed out previously on spiked, the mainstreaming of pornography has come at a time in which the private sphere has been redefined as something either prudish or deeply suspect. The compulsion to open up about our sex lives, to throw our most intimate relations open to discussion among friends and even therapists, effectively strips sex down to a physiological mechanism – one of pleasure, desire, maybe, but nothing more. Meanwhile, constant campaigns aimed at tackling domestic abuse and sexual violence imbue private relationships with a sense of danger, situations which are closed off and thus open to untold emotional or physical abuse. The maudlin country-singer-like sentiment that love isn't worth it, it's too complicated, too risky, something that will only leave you broken-hearted in the end, has been grounded in a far nastier notion of endemic subjugation going on behind closed doors.
It is within this atmosphere that hook-up sites, and the 'pornified' world they spring from, have flourished. Sex, decoupled from any private meaning, becomes merely a means to physical release, something which can be sated by a late-night hook-up. And emotional intimacy is seen as fraught with emotional – and sometimes physical – peril. This year, the Valentines scrooges should quit their whinging – clearly, in today's society, romance and intimacy are not worth celebrating.
Tom Slater is assistant editor at spiked.
Picture: Julian Stratenschulte/DPA/Press Association Images
To enquire about republishing spiked's content, a right to reply or to request a correction, please contact the managing editor, Viv Regan.