Crying over Marius: are they having a giraffe?
The mourning for Marius speaks to a growing distrust of mankind.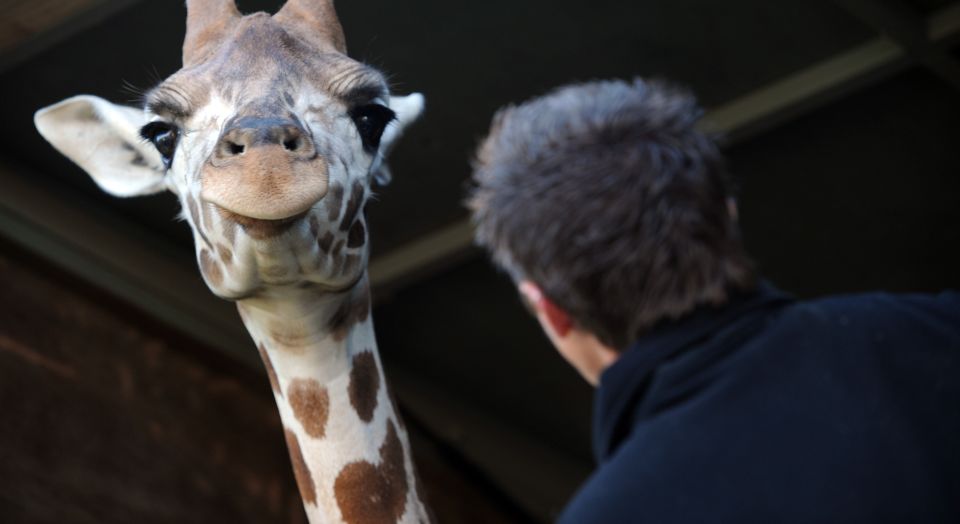 Now that's what I call a snub to the animal-rights lobby. For weeks, animal-rights activists and concerned citizens had been bombarding Copenhagen Zoo with petitions, emails and letters of complaint over its plans to put down an 18-month-old giraffe called Marius. 'Leave Marius alone!', these weepy giraffe-lovers demanded. The zoo's response? It went ahead with the killing, carried it out by stun gun instead of using an apparently more humane lethal injection, dissected Marius in front of an audience that included children, and then fed him to the zoo's lions. Oh, and it released video footage of the lions feasting on Marius's carcass. It was almost as if the zoo's owners were trolling the entire world.
There is something admirable in the zoo's actions. At a time when people assume emotion should take primacy over reason, narcissistically believing their personal feelings of outrage about some thought or some thing should trump other people's right to think that thought or do that thing, the zoo remained, in its own words, 'very steadfast' about refusing to cave into emotional hysteria. As Bengt Holst, the zoo's scientific director, put it, 'We know we've made this decision on a factual and proper basis, [and] we can't all of a sudden change to something we know is worse because of some emotional events happening around us'. In an era when politicians ditch policies that upset small but loud lobby groups, and overemotional Twittermobs have become adept at extracting apologies from someone who has said something outré, I reckon we should applaud Holst and his zoo for insulating themselves from what they very politely call 'emotional events'.
The bizarre international obsession with Marius over the past week and more has been a pretty clear-cut case of emotion versus reason. On one side we had the weepers for Marius, who turned this young giraffe into a symbol of the broader travails that animalkind apparently suffers at the hands of wicked humanity. PETA said Marius was a victim of mankind's lust for 'incarcerating intelligent animals for profit', or what the rest of us refer to as 'zoos'. These institutions pass 'life sentences' against animals, it said, causing them to become 'bored, depressed and often mad', and then, as Marius's fate shows, it 'executes' them. The Guardian also described Marius's fate in highly emotional terms, as if it were writing about an actual human being on death row: 'In the chilly dawn of Sunday morning a healthy young giraffe in a Danish zoo was given its favourite meal of rye bread by a keeper – and then shot in the head by a vet.' 'Poor Marius', said Time magazine. '[He was] utterly adorable.' More than 27,000 people signed a petition to keep Marius alive, some saying things like 'the true nature of the Danes is now revealed!', while over the past 24 hours the hashtag RIPmarius has been trending on Twitter, accompanied by such emotional gems as 'Ashamed to be human right now', 'Losing hope in humanity from this', and 'I'm gonna find those people [the zoo's owners] and kill them'.
And in the other corner, the calmer corner, we had the zoo's directors and scientists, who calmly and quite convincingly pointed out that Marius had to be euthanised because he was part of an international breeding programme 'whose bylaws prohibit inbreeding in an effort to maintain the health of the stock'. That is, because Marius's genes were overrepresented in the giraffes that Copenhagen Zoo already has, it would have been a threat to the wellbeing of the stock to allow him to breed, and so he had to go. For all the claims that Holst and other evil Danes acted unilaterally and perversely in their killing of Marius, in fact his putting down was okayed by officials at the European Breeding Programme for Giraffes. In essence, the death of Marius represents a triumph, albeit a small one, for rationalism over the new cults of emotional correctness and emotional blackmail that have become a far too central, and far too censorious, feature of modern public life.
The Marius fiasco reveals what really motors animal-rights sentiments today – a feeling of disgust with human beings, with cocky, arrogant, nature-dominating mankind. Whether it's Japanese fishermen killing dolphins for food, Canadians hunting seal for fur, or zoo owners seeking to control their populations, acts of so-called 'animal cruelty' are continually flagged up by campaigners and observers who really want to chastise human beings for having the temerity to believe they are superior to beasts and in charge of Mother Nature.
So hunting is rebranded 'murder', zoos become 'prisons', laboratory testing on animals is 'torture', and our belief that we are better than animals – by dint of being conscious and intelligent – is referred to as 'speciesism'. Yep, even mankind's longstanding recognition that he is special, different to every other creature he shares the planet with, a recognition which informed everything from the Book of Genesis to Enlightenment thinkers' insistence that we should 'put nature on the rack and extract her secrets', is now pathologised, treated as a form of inter-species racism. 'How dare you presume you are superior to a rabbit?!' Behind the handwringing over Marius, there lurks a modern discomfort with man's conscious separation of himself from the animal kingdom and his belief that he has the right to study, eat, wear, own and sometimes kill beasts.
The Marius madness confirms that this discomfort is becoming more mainstream. A few years ago wailing over a giraffe on 'death row' would have been confined to small numbers of animal-rights saddos and eccentric old women with more cats than human friends. But now, everyone from Time to the Twittersphere loses the plot over one bloody giraffe. Such growing pity for animals reflects a declining faith and trust in man. So good on Copenhagen Zoo for refusing to kowtow to such sentiments and instead having the confidence to do what it considered best, using something that no giraffe possesses: rational thought.
Brendan O'Neill is editor of spiked.
Picture: JOE CASTRO/AAP/Press Association Images
To enquire about republishing spiked's content, a right to reply or to request a correction, please contact the managing editor, Viv Regan.