What could be worse than Holocaust denial?
Answer: trying to ban alleged Holocaust deniers such as Dieudonné.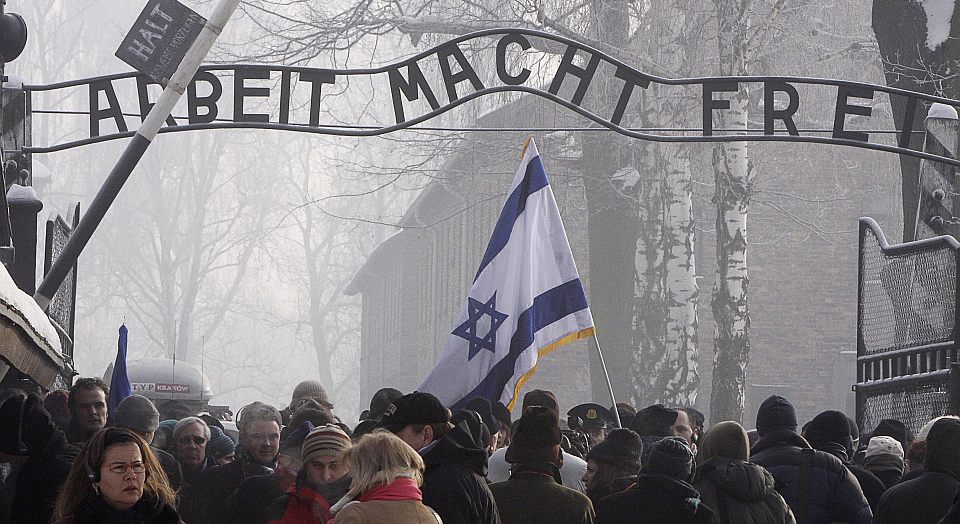 All this week, spiked is publishing a series of articles on the Jewish Question in the twenty-first century. Here, Mick Hume explains why banning Holocaust denial is a bad move.
Denying the truth about the Nazi Holocaust is the action of frauds, fools and fascists. If there is one thing even more stupid than that, however, it is surely imposing bans designed to turn Holocaust denial into a thought crime.
Holocaust denial is currently a crime in almost 20 countries, most of which are EU members, led by France and Germany. The UK parliament has so far rejected attempts to make Holocaust denial a specific crime – though the plethora of UK laws against hate speech and offensive language make it easy enough for the British authorities to outlaw Holocaust deniers in practice, as with the ban they imposed this week on the anti-Semitic French comedian Dieudonné M'bala M'bala.
Why were all these measures outlawing Holocaust denial imposed in the first place? The fact that most countries did not have such laws until the 1990s suggests the motivation had more to do with contemporary politics than historical events. Amid the uncertainties of the post-Cold War era, striking 'Never Again' poses against dead Nazis and a handful of Holocaust deniers gave European politicians an opportunity to make a rare stand for the forces of Good against a clear-cut Evil.
The ersatz sense of moral mission this provided was also projected on to foreign policy, as Western governments sought out 'the new Nazis' in Bosnia or Rwanda. When New Labour prime minister Tony Blair first talked about introducing a Holocaust Memorial Day in Britain in 1999, he immediately used it to justify the bombing war that NATO was then waging against the Serbs over Kosovo. Thus, more than 50 years after the horrific events of the Holocaust, self-serving European politicians plucked it out of its past setting and turned it into a rare ahistorical moral absolute, a universal symbol of evil to be exploited for political purposes today.
The Holocaust became less an historic atrocity to be understood and more a matter of religious orthodoxy to be learnt by rote. This put it beyond question, something that secular authorities were no more prepared to debate than the pope might be to haggle over the truth of transubstantiation. The notion of banning (either explicitly or implicitly) those who dissent from this orthodoxy, the Holocaust deniers, followed logically from its elevation into pseudo-theology.
Some of us who entirely accept the historical truths of the Nazi Holocaust and the deaths of six million Jews nevertheless oppose bans and laws against Holocaust denial on two key grounds, one principled and one more practical. First, because we believe in freedom of speech as a fundamental political principle that has virtue in and of itself, regardless of the content of what is said. And second because, in practice, trying to deal with a political issue such as Holocaust denial through bans can only make the problem worse, by encouraging cynicism and giving credence to conspiracy theories.
Whether some like it or not, treating Holocaust denial as a crime is a straightforward free-speech issue. It is a measure of how far the historic principle of freedom of speech has fallen out of fashion that so many should now believe that the way to deal with obnoxious opinion is through the law rather than argument. Thus a UK government and European Commission expert on anti-Semitism argues that Jews will be 'best protected in open and tolerant democracies that actively prosecute all forms of racial and religious hatred'. Such one-eyed experts apparently see no contradiction in promiscuously banning words and prosecuting ideas in the name of 'tolerance' and 'democracy'.
Freedom of speech is the lifeblood of a civilised society, without which no other liberties that we care about would be possible. It is also an indivisible right that needs to be defended for all or surrendered. To have any real meaning, free speech must also extend to those the mainstream deems irresponsible or unpalatable – be that the Greek philosopher Socrates (put to death for talking out of turn in Ancient Athens), the Italian astronomer Galileo (convicted of heresy by the Inquisition for suggesting that the Earth moves around the Sun), or the French 'funny man' Dieudonné (just banned from Britain for telling offensive anti-Semitic jokes).
Indeed, opposing the criminalisation of Holocaust denial is an acid test for those who believe in the principle of free speech. After all, it is only 'extreme' ideas that need defending against bans – the mainstream can look after itself. That should not imply any sort of support or sympathy for the putrid historical lies of the Holocaust deniers. It is instead in the spirit of the famous anti-fascist George Orwell's argument, that 'if liberty means anything at all, it means the right to tell people what they do not what to hear'.
So much for the principle. The practical arguments against bans on Holocaust deniers are just as important today. The best way to confront bad ideas and distortions is always through debate and exposure. To seek to repress them instead can only inhibit the search for clarity and truth. Attempting a bureaucratic solution to profound political and social problems through bans and proscriptions always makes matters worse. In the case of Holocaust denial, the practical consequences can be dangerously far-reaching.
In recent decades, the authorities across Europe and America have sought to erect a ring-fence around the question of the Holocaust, treating it as a religious relic that cannot be touched, re-examined or in any way disrespected without calling down wrath from above. The Holocaust has been used as an all-purpose instrument of moral instruction, to drum into people – especially young people – the threat of Evil. Under New Labour, the Holocaust became the only historical event to enjoy compulsory status in the national schools' curriculum. A generation of British schoolchildren have been instructed to learn that playground bullying can be the first step on the return march to the death camps.
A perverse effect of this constant one-note public chorus about the 'lessons' of the Holocaust has been to invite a more grumbling response beneath the surface. There are only so many times teenagers can be told to read aloud from Anne Frank's diary like a religious text, or to imagine what it was like to be a child in Auschwitz (good luck with that!), before the feeling grows that they are having the Holocaust shoved down their throats. And that creates fertile ground for cynicism to flourish.
When people are denied the chance seriously to discuss or question an official orthodoxy in critical fashion, it is likely to prompt other unwanted questions. Such as, 'Why do they keep going on about this?' and 'What have they got to hide?'. Like unwilling churchgoers, many will go through the act and pay lip service to the sermons about the Holocaust, while at the same time adapting to a creeping culture of cynicism.
In trying to protect the truth about the Holocaust from the perfidies of the deniers through administrative and even authoritarian measures, governments and judges risk giving credence to their execrable conspiracy theories. Those who live by the ban can perish by it also.
Mick Hume is spiked's editor-at-large. His book, There is No Such Thing as a Free Press… And We Need One More Than Ever, is published by Societas. (Order this book from Amazon(UK).) Visit his website here.
To enquire about republishing spiked's content, a right to reply or to request a correction, please contact the managing editor, Viv Regan.