Why the PC police want to rid football of Yids
It's not anti-Semitism they fear, but rough, gruff, knuckle-dragging footie fans.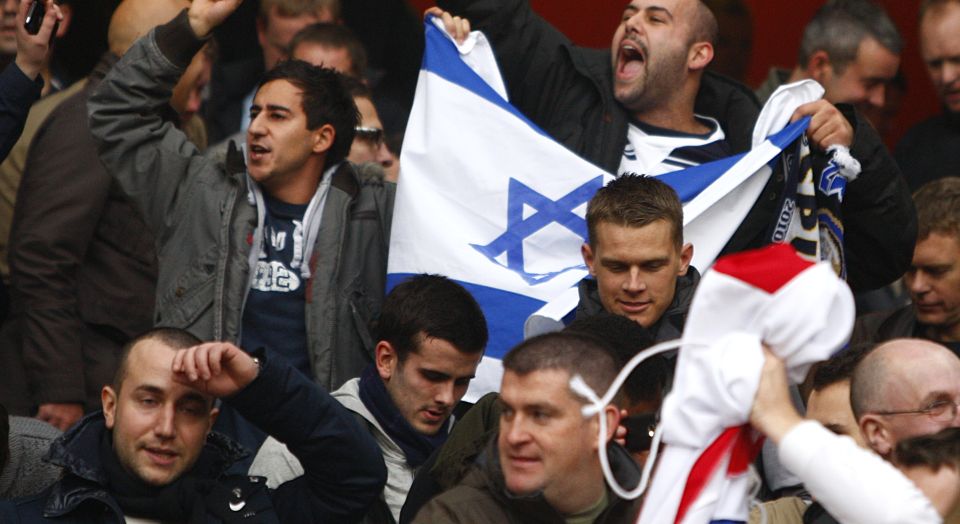 All this week, spiked is publishing a series of articles on the Jewish Question in the twenty-first century. Here, Tim Black picks apart the 'Yid' controversy.
It was hardly a surprise when the elite, showbiz-backed campaign to stop Spurs fans using the word Yid started. In fact, given officialdom's obsession with the language and gestures of football fans and our near stultifying 'you can't say that' culture, it was a surprise that it took until 2011, and a Kick It Out campaign fronted by the chuckling Baddiel brothers, for Spurs fans to be told to stop identifying themselves as Yiddos.
Still, since its launch, the campaign to rid British stadia of what the po-faced insist on calling the 'Y-word' has built up a depressingly impressive head of steam. In September 2012, drawing on the spectacularly illiberal implications of Section Five of the Public Disorder Act, the Society of Black Lawyers (SBL) threatened to report Spurs, the club, to the Metropolitan Police if it did not do something to put a stop to what it called 'anti-Semitic abuse' at its home ground: 'It doesn't matter what the intent is of the individual or the crowd; if the words cause harassment, alarm, or distress to anyone watching, then that is sufficient.' The English Football Association was quick to agree with the SBL, pointing out that Spurs fans were at risk of prosecution for using the word Yid. And then, earlier this year, that risk became reality as three Spurs fans, having been shouting the word Yiddo, were charged with racially aggravated disorder at two separate matches.
How has it come to this? How have Spurs fans shouting what is their unofficial nickname been turned into the objects of criminal prosecution? Because, in the eyes of an influential minority, Spurs fans' use of the word Yid is anti-Semitic.
What's odd about this is that, historically, Spurs fans' adoption of Yid as a self-description is precisely the opposite of anti-Semitic. If anything, it was pro-Semitic. It was the act of a fanbase reclaiming a word long thrown at it as a term of abuse, and transforming it into something to be proud of. 'A badge of honour', as one Spurs fan I talked to described it.
Spurs, you see, have long been known as English football's Jewish club. The reasons for it having a large proportion of Jewish fans among its support base are not exactly clear: some say it was the proximity of the now-defunct electric tram line to White Hart Lane which took London's East End Jewish community northwards; others point to Spurs' relative success in the early twentieth century; and still more note the ground's proximity to a synagogue. As the historian Simon Schama wrote recently: 'The reason my dad passed on the allegiance to me was because the synagogue he helped establish was near White Hart Lane.' Regardless of why Spurs historically had a large number of Jewish supporters, there was little doubt that Spurs did become known as a Jewish football club.
However, by the 1970s, a distinctly angry, un-PC era, Spurs' Jewishness had become an object of opposing fans' taunts. They were routinely abused for their Yiddishness, their Jew-loving. Their reputation was a red rag to the racism-inclined, an easy prompt for cheap anti-Semitism. Spurs fans were certainly known as 'the Yids', but not in a good way.
But that was before the Spurs fans fought back. That was before they took the word Yid and turned it into a source of pride, as something that they wanted to be known as. Spurs' reputation as a Jew-supported football club was, possibly for the first time, about to be embraced.
One account asserts that this all started among a group of aways-going fans tired of the endless invective being chucked at them. 'If we embraced the word "Yid" then we'd remove their firepower and leave them with nothing', recalls one Spurs fan of a train-bound conversation all those years ago. 'Yeah, okay, but how do we do that?', came the response. 'We become "the Yids".' The Spurs fan continues: 'By the time we played Derby in the next away fixture, the fire had started to spread, chants of "Yiddos" rang out from the whole train as it departed the station, "Yiddos" boomed out of the train windows whenever it slowed down enough or there was someone around to hear it, and within a few weeks Arsenal had to come up with another chant all because "we are the Yids" and we're proud of it. The rest, as they say, is history.' This was 1978.
Quite how this is meant to be anti-Semitic is unclear. The adoption of the word Yid was actually Spurs fans' attempt to beat back anti-Semitism, to embrace their Jewish identity as something to be proud of. Little wonder that many of Spurs' Jewish fans are more than happy with what is palpably a positive use of the word Yid. As one Jewish Spurs fan wrote in a letter to The Times recently: 'I have never taken offence at the "Yid" chants and indeed feel pride when hearing non-Jews adopt this as something of a badge of honour and seeing Spurs banners adorned with the Star of David.'
Of course, even the most committed language policeman is at some point forced to accept that there is a distinction between a group of fans proudly proclaiming themselves to be 'Yids' and a gang of neo-Nazis shouting something similar. It's all in the intent. At this point, the crusade against football fans' language shifts focus. So while being forced to acknowledge that anti-Semitism is far from the thoughts of the Yids from the lane, campaigners argue that Spurs fans are prompting anti-Yid, and therefore, anti-Semitic abuse from opposition fans. That's why they should mind their language – because it causes anti-Semitism in others, like some sort of racist call and response.
There is little doubt that among football fans there will be those who are anti-Semitic. This, however, has little to do with Spurs fans' unofficial nickname and everything to do with the regrettable existence of anti-Semitism in society more broadly. And, yep, some with anti-Semitic ideas even go to watch the football. Still, that being so, the idea that anti-Semitism is a huge problem among football fans is more than a little overstated. By and large, the vast majority of those fans who today shout rude things about Spurs' Yiddishness, or indulge that tasteless hissing shtick, do so because they, as fans from an opposing team, hate Spurs, not Jews. They want to see Spurs fans suffer footballing pains, not Jewish people suffer actual pains.
Sure, some fans will harbour anti-Semitic sentiments. But even when that is the case, what good would banning a word do? In the mouths of the virulently anti-Semitic, 'Jew' is a term of abuse, so why not ban that, too? More importantly, this type of state intervention, this idea that it is possible to defeat nasty ideas by banning nasty words, is just plain idiotic. Someone who thinks Jews are bad, powerful people will still think that even if they're banned from saying it in a certain way. Bad arguments are defeated by good arguments, never censorship. As one Spurs fan tells me, '[Banning the word 'Yid'] isn't going to stop anything. All that's going to happen is that Spurs fans are going to be censored. It won't stop anti-Semitism, and it won't stop racism.'
What's odd about this sudden interest in Spurs fans' term of self-endearment is that the same people busy penning self-righteous condemnations of uncouth fans and their uncouth chants seem to take little interest in far more prevalent forms of what Brendan O'Neill described on spiked this week as cultural anti-Semitism. So it's seemingly okay for a Sunday Times cartoonist to casually, semi-accidentally invoke a blood libel on Holocaust Memorial Day, as Gerald Scarfe did last year; it's seemingly okay for left-ish types casually and conspiratorially to talk about a cabal of bankers bringing the economy to its knees or about a pro-Israel lobby pulling the US government's strings; and it's seemingly okay for a council in East London to permit the painting of a mural showing a group of decidedly Jewish-looking individuals controlling global affairs and causing recession. Such oddly complacent forms of borderline anti-Semitic sentiment are overlooked, tolerated even, by the very same people trying to stop Spurs fans from using a word to describe themselves – all in the name of anti-Semitism.
It makes you wonder, doesn't it? Could it be that the current obsession with the language of Spurs fans, and football fans in general, has rather less to do with combating anti-Semitism than it does with an elite fear and loathing of that section of society that goes to watch the football? That's who really frightens this high-powered petit-bourgeois coterie currently poring over CCTV footage of the North Stand: the 'knuckle-dragging cretins' who watch football, not anti-Semites.
Tim Black is deputy editor of spiked.
To enquire about republishing spiked's content, a right to reply or to request a correction, please contact the managing editor, Viv Regan.