American Football: not just rugby for wusses
After years of sneering, Brits are watching the NFL in their millions - and it's easy to see why.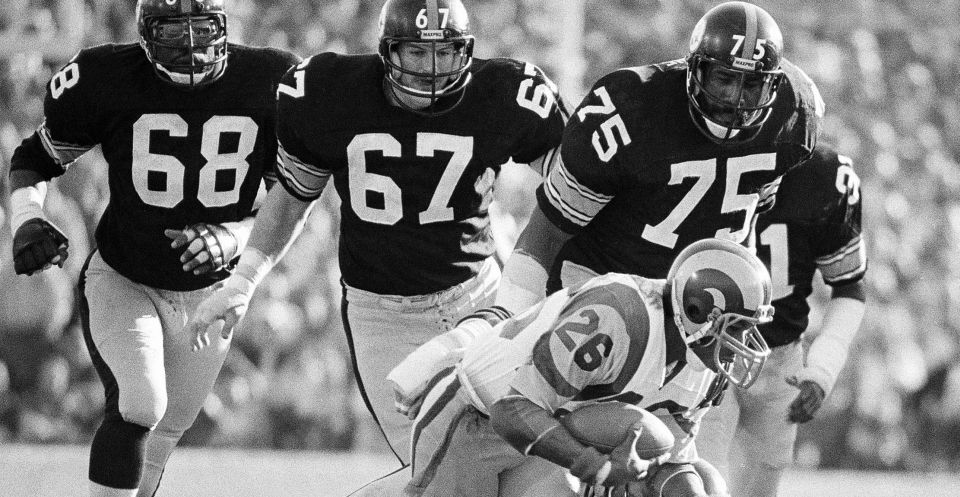 As George Bernard Shaw, allegedly, once said, 'England and America are two countries divided by a common language'. The number of differences could fill an article – indeed fill an entertaining and frequently fascinating blog – but perhaps one of the most fraught differences is what we each mean by the word 'football'.
For the British, 'football' means association football. For the Americans, 'football' refers to gridiron. And this difference can be a matter of pride. Many Brits will bristle at Americans calling the game 'soccer', despite the word 'soccer' being our invention, and will dismiss American football as a crap version of rugby played by wusses who need to be padded up before they will tackle each other. Conversely, many Americans typically view soccer as a game played by over-coiffed prima donnas who'll fall to the floor at the slightest hint of a stern look, let alone a tackle.
I admit that, for a long time, I've viewed American football with a bit of suspicion. The games take ages (an average NFL game takes about three hours). The play stops and starts with the frequency of a bus going down Oxford Street. Each side has a different team for attacking and defending – plus 'special teams' for kicking plays – which feels like some kind of weird job-creation scheme. And for the beginner, the rules and tactics can seem bewilderingly complex. Why are the referees throwing those flags all over the place? Why did the clock stop this time, but not the play before? A pistol offence sounds dangerous. And the names of player positions, like wide receiver and tight end, just sound rude. I'd rather stick to the beautiful game – slick passing, end-to-end stuff, 90 minutes of free-flowing genius. (Though as a season-ticket holder at Dundee United for much of the early Noughties, Lord knows where I got that impression of football from.)
To me, American football was nothing more than a vague memory of highlights on Channel 4 in the 90s, and a San Francisco 49ers jacket hanging in my dad's wardrobe – a remnant of an ill-fated push to make the NFL popular in Europe in the 90s.
But in 2007, as part of a push to expand the appeal of the sport worldwide, the NFL brought American football back to Wembley Stadium for the first time since 1993. Also, this time around Wembley was playing host to regular season games – that is, actual competitive matches. Since that year, when the New York Giants took on the Miami Dolphins, seven other games have been played in London and another five are due to be played by 2016. These have been a huge success, attended by an average of 82,000 people and helping spur renewed interest in the sport in the UK. Viewing figures have surged 154 per cent since 2006 and an average of 1.1million watched Super Bowl XLVI in 2012. Which is pretty good, considering the game starts around 11.30pm, and doesn't finish until the early hours of the morning. There's even talk of London getting its own team.
So, the NFL has put some serious effort into making the sport popular over here, and it seems to be working. And it's definitely worked on me. No longer quite so baffled, I've found myself increasingly warming to the sport. NFL games carry a certain bombast that would frankly embarrass a football game should we try it and, in the true American way, everything just seems bigger. The game itself, despite appearing horrifically complicated, is in fact relatively simple: the teams have four attempts to move the ball forward 10 yards; if they manage that they get another four goes; if they fail, their opponent gets the ball. Make it all the way to the opponent's end-zone at the other side of the field, and you score. Easy.
Getting to grips with American football means getting to grips with a whole new ball game. The role of the specialist is massively more important than in football. Let alone the fact that NFL sides have three different teams that are rotated during the course of a game, each player is highly specialised in a way that's a joy to figure out. Teams even have players whose only job is to kick the ball. Realising that the key to success is each individual acting as a part of a highly polished machine and watching that at work can be difficult, but highly rewarding. Each team will have hundreds of different plays that each player needs to know in order to succeed. They don't always work, and games can become an attritional grind, but every sport has its bad games.
But American football is more than a match-up between lycra-suited cybermen – there are also exhilarating moments of individual brilliance. Whether it's the quarterback making a last-gasp throw to win the game, or a running back finding a chink of light in a fearsome defence to carry the ball down the field, or seeing a huge defensive lineman make a bone-rattling tackle out of nowhere, American football provides plenty of thrills. And there's a huge amount of history to be explored. American football has a fantastic way of mythologising plays and games in a way that makes them instantly recognisable, despite having somewhat innocuous names for them – 'The Catch', 'The Fumble' or 'The Music City Miracle' come to mind.
The era of the internet and video streaming makes keeping up with the NFL a million times easier than it was in the 80s, and watching the Jaguars take on (and get mauled by) the 49ers at Wembley has given me a small taste of the live experience. This Sunday night, once again, I'll be staying up late for the Super Bowl; watching record-smashing quarterback Peyton Manning lead the Denver Broncos against the Seattle Seahawks, who are looking to win their first Super Bowl. No matter what the result, it's sure to be a spectacle in one way or another.
Give this 'crap version of rugby' a try. You might start to fall in love with it. I have. But still, I won't be using the word 'soccer' any time soon. Sorry, NFL.
Craig Fairnington is online resources manager of the Institute of Ideas. Follow him on Twitter: @craigfair
To enquire about republishing spiked's content, a right to reply or to request a correction, please contact the managing editor, Viv Regan.