Three cheers for India's triumph over polio
India is to be declared polio-free - a testament to economic growth's benefits.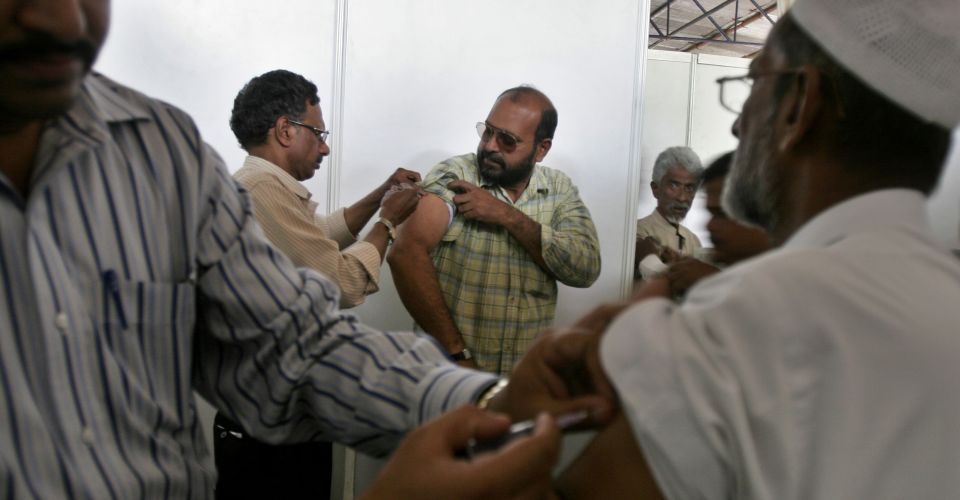 India can proudly look upon 2014 as the year it defeated the scourge of polio. It is now three years since the last polio case was reported in India, and in March the World Health Organisation (WHO) is expected to declare India officially polio-free. It is a great moment for India and a big step towards polio's global eradication. This enormous achievement is a product of two things that attract criticism from many commentators: India's rapid economic growth and its growing population.
Poliomyelitis is an infectious viral disease that typically affects children and is spread through contaminated food and water or through contact with the fecal matter of an infected person. It attacks the central nervous system, causing paralysis, muscular atrophy, deformity and, in some cases, death. A polio-afflicted child dragging himself along the streets and begging at traffic lights has been an enduring image of a poor and diseased India. As one Indian national daily put it, 'The wretched sight of crippled street hawkers or beggars on wheeled trolleys will remain a legacy of the country's time as an epicentre of the disease'. Oddly, today some critics find the sight of flashy malls and the millions of cars on India's streets equally disconcerting, a sign of vulgar consumerism and a strain on the planet. This palpable rise in wealth, however, has also brought rising expectations in healthcare in India, and increased the state's ability to spend on such matters.
India has struggled with polio for decades. The discovery of the polio vaccine in 1957 ensured that this once incurable disease was eliminated from the Western world by the early 1980s. According to estimates, before the vaccine was introduced in India in 1978, 500 children were being paralysed daily. While in Britain the last known case of polio occurred in 1982, in India in the 1980s as many as 200,000 new cases were still being reported annually. In 1988, when the Global Polio Eradication Initiative (GPEI) was launched, India had the highest number of polio cases in the world. In 1995, 14 years into its own National Immunisation Programme to eradicate polio, India still had more cases than anywhere else in the world. After some success in reducing the number of cases, in 2006 there was an epidemic in Uttar Pradesh, one of India's poorest states. India was widely regarded as undermining the global initiative to eradicate polio. The government was even accused of fudging numbers and not showing enough political will. Now the political will and the commitment of health officials, workers and doctors in India are being hailed as exemplary.
In a country of 1.2 billion people, spread across an area of 3.2million square kilometres, the biggest challenge for a national immunisation programme is one of scale. Around 70 per cent of India's people still live in rural areas, and many of them have only limited access to healthcare facilities and basic infrastructure. Migrant populations moving to cities for work made it harder to track polio case. But the creative thinking and innovative strategies of the national vaccination and surveillance teams ensured that migrant and mobile populations, including construction workers coming to cities and homeless people, were administered the vaccine. The sheer scale of the programme was both its biggest challenge and greatest achievement.
According to WHO, in just one round of the national immunisation days there were '640,000 vaccination booths, 2.3million vaccinators, 200million doses of vaccine, 6.3million ice packs, 191million homes visited and 172million children immunised'. And this was done by a network of people in mobile teams at railways stations, markets, construction sites, trains and buses and even at public gatherings. Those who see India's population as a burden on development fail to see that the anti-polio programme's strength and its biggest resource was in fact the people – the doctors, nurses, lab workers, surveillance medical officers, trainers, vaccinators, teachers, students, health and community workers, religious leaders, volunteers and local NGOs at national, state and district levels.
India's pursuit of economic growth is often criticised as unsustainable and undesirable, but the 'momentous milestone' of eradicating polio, as India's health minister described it, is evidence of what a richer India can achieve. Improvements in health and wellbeing are now possible and can be prioritised thanks to continued growth and development. India accounted for a large share, 32 per cent, of the GPEI's financial requirements. However, according to GPEI figures cited by one study, the Indian government devoted a cumulative total of $1 billion for polio eradication between 2003 and 2010, and this was projected to finance 78 per cent of the campaign's costs between 2011 and 2013.
Previous concerns about the costs of the campaign eating into other more pressing health priorities have now turned to confidence in addressing other diseases. No doubt numerous health challenges still plague India and the resources and infrastructure to address these are still lacking. Indeed, the health minister, while celebrating the eradication of polio, admitted that the government needed to spend more on improving health services. However, the success of the polio programme could be just the boost needed, as the health minister stated that 'India has now set other important public-health goals as a result of the confidence that the country has got from the successful eradication of polio'. Nor are the consequences of this success confined to India. Neighbouring Pakistan, one of three remaining polio-endemic countries, has now been motivated to accelerate its immunisation programme.
India's challenge now will be to monitor its borders to prevent any new cases of polio through migration. India already has plans to appoint vaccinators and surveillance teams at border locations. While there are many more milestones to be reached in India and elsewhere in the world, we can celebrate this achievement and acknowledge what made it possible: 'political will, adequate financial resources, technological innovation and the efforts of millions of workers', to quote the Indian health minister.
Never mind the cynics who worry about unrestrained development and complain that there are too many people on this planet. We could use more development and more people so that in future we can celebrate more global successes such as the one against polio in India.
Sadhvi Sharma is a PhD student in the Rajaratnam School of International Studies (RSIS) at the Nanyang Technological University in Singapore.
Picture: Aijaz Rahi/AP/Press Association Images
To enquire about republishing spiked's content, a right to reply or to request a correction, please contact the managing editor, Viv Regan.