United we fall, Fergie…?
spiked's resident 'Cockney Red' takes a sanguine look at Manchester United's crisis.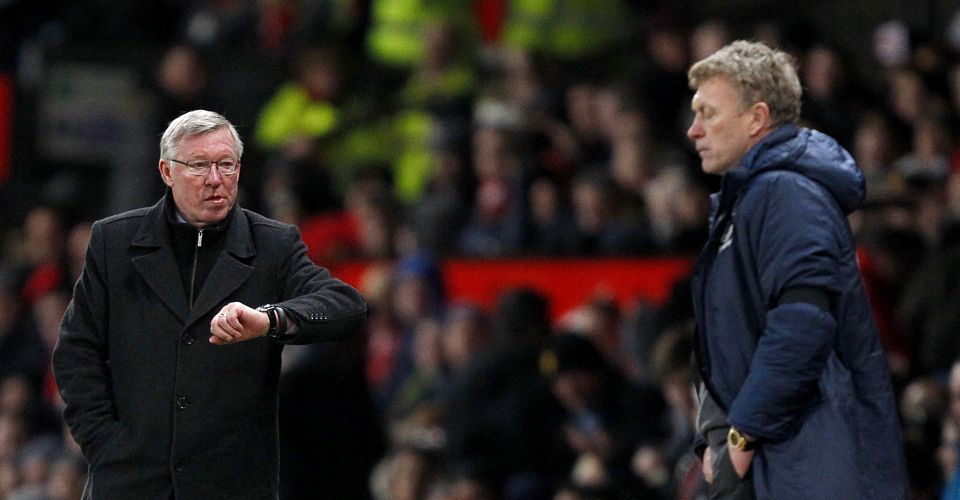 To judge by all the dramatic news stories this week, it seems as if the creeping crisis of authority in UK institutions has finally reached one of the last pillars of stability and enduring power in British society – no, not the monarchy, but Manchester United Football Club.
Much of the feverish discussion about the sudden decline of the most successful English club of the past 20 years inevitably focuses on the fall-out from the retirement of Sir Alex Ferguson, the manager of 27 years who led United to 13 Premier League titles, two European Champions' Leagues and much else besides. The mythologising of the Ferguson era reached fresh heights before Christmas around the publication of his latest autobiography. The New Statesman (house journal of Fergie's beloved Labour Party) described him as not just the last great British manager, but even as the 'last great Briton'. Not surprising, then, that his absence is now described in such portentous terms as causing the sun to set on the Old Trafford Empire. The only wonder is that nobody has yet linked the departure of Ferguson (a Glasgow Labour Unionist) with the crisis in Anglo-Scottish relations.
As so often with our national game these days, the one thing we seem guaranteed to lose around football is any sense of perspective. Many of us might share the schoolboy passion that led Ferguson famously to exclaim 'Football. Bloody Hell!' after the dramatic last-minute victory in the 1999 European Cup final. But we should surely also be old enough to appreciate that bloody hell, it's only football.
That Manchester United losing a few matches at the start of the season can be discussed in such melodramatic terms looks like another sign of the over-inflated position of football in our culture today, the way it has been brought on as a substitute to fill the gap where politics and religion and the rest of our public life is supposed to be. And it is also a sign of how much our culture is in the grip of 'presentism', the goldfish tendency to forget the past, that United's sudden decline should be seen by many as such a shock, as if nothing ever changes and Planet Football only fell from the Sky (TV) in 1993.
As a lifelong 'Cockney Red' (so named by those who deem anybody a Cockney who was born within the sound of the M25 rather than the Bow Bells), I have been taking a fair bit of stick of late from fans of other clubs. Fair enough, of course; despite the influx of overseas players to the Premier League, every football supporter's favourite foreign import remains schadenfreude.
I have also been accosted by a fair few fellow United fans, asking: 'What's gone wrong this season?' To which the answer must be: not much, really. Instead things are more or less 'progressing' as some of us expected. Fergie's retirement has only exposed the existing problems at the heart of United's team – a case where the stripping of the emperor reveals that the empire itself has no clothes.
Yes, this is essentially the same United squad that won the title by 11 points last season. But that triumph should never have distracted from the fact that they were not very good. There were three peculiar factors that helped United become champions in 2013, none of which still holds. First, the other major teams – notably Manchester City – were truly rubbish last season. They have improved this term (though that point should not be overstated – the Premier League is still pretty crap in relative terms). Second, Robin Van Persie, Ferguson's last great signing, stayed fit and scored with almost every kick of the ball. He now appears to have reverted to the 'sicknote' status he held for much of his Arsenal career.
And yes, thirdly there is the Fergie factor. The manager's force of personality and aura undoubtedly helped to compensate for the shortcomings of his team. Of Ferguson's 13 Premier League titles at United, several were won by outstanding sides – think of the Cantona-led cavaliers of 1993 and 1994, the Keane-commanded treble winners of 1999, or the Ronaldo-inspired European champions of 2008. There were other years, however, when the manager effectively carried average United teams over the line against grim opposition. Last season was not the first such occasion, though it was one of the more graphic examples. Little wonder that David Moyes, the grey man of Goodison, has found it hard to repeat his predecessor's trick.
The contrast between the triumphant end of the Ferguson era and the poor start to Moyes' reign has helped to reinforce the mythologising of Fergie. In the discussion of his retirement and autobiography last year, Ferguson was widely held up as an exemplar of the qualities and leadership that are missing elsewhere in British public life today. That reverence is nowhere more evident than at Old Trafford, where the main stand and the road outside the stadium have both been renamed after our glorious ex-leader, as if somebody had confused the North Stand with North Korea. Indeed Ferguson has been compared in the media to every leader from Lenin and Stalin to Churchill and Thatcher. As I wrote on spiked at the time of his abdication last May, while the tributes from United fans were fitting, the outburst of Fergie-mania in the media and among politicians was fatuous: 'Remember, Fergie is for football, not for life'.
Yet even in strictly football terms, Ferguson's legend is part myth – he must take his heavy share of responsibility for the current problems at United. It is all very well to complain at Moyes' failure to sign a midfielder in the summer. Yet more remarkably, Ferguson had not signed a proper midfielder for more than five years. He never replaced superstars such as Roy Keane or Paul Scholes and Ryan Giggs (indeed the ghost of Giggsy past is still lumbering around United's midfield).
One big reason for this of course has been the tendency for United's American owners, the Glazers, to spend the club's millions on their interest payments rather than expensive new players. Ferguson made that easy for them by crawling to the boardroom and praising the Glazers as 'fantastic' for United. Thus while someone like Vincent Tan, the eccentric owner of Cardiff City, is treated by the football media as a Bond villain, there are no longer any vehement attacks on the parasitic Glazer regime from the wider 'football family'. Yet which has done more damage to 'their' club?
If you want a crude political parallel for Ferguson's management, he was less a Lenin figure leading a movement than a Bonpartist dictator with everything centred on The Leader. The 'ism' that best characterises Ferguson is surely narcissism – reflected in the belief that nobody was bigger than the club, except him. Any player who crossed him – including the likes of Keane and Wayne Rooney – was out, regardless of the potential impact on the team. It seems he took a similarly petty approach to choosing his successor, anointing his pallid mini-me Moyes rather than Jose Mourinho, who was disqualified for the job he coveted by the suspicion that he might have done it at least as well as Fergie had.
So no, it comes as little surprise that things look this bad at United today. And yes, we should expect them to get worse. There must be a good chance that Rooney will leave, perhaps followed by Van Persie and David de Gea. It remains to be seen who will be persuaded to come and replace them. As Monty Python reforms, chances are that United fans might yet revive 'Always Look on the Bright Side of Life' as the ironic anthem it was in the past.
But whatever else we might lose, let us try to keep a sense of perspective. All of this leaves me resigned rather than suicidal (unlike the Kenyan United fan who reportedly threw himself off a building after one recent home defeat). Things change, nothing lasts forever – or as we old Marxist hooligans used to say, it's dialectical, innit? United have dominated English football for 20 years. Before that, however, they were crap for at least as long, a laughing stock which failed to win the title for 26 years. Those were the long dark days of Scouse domination. Now Liverpool in turn have not won the title for 23 years (and, hopefully, counting…).
A salutary tale from the crypt with which to end. Almost exactly 40 years ago, on the Monday morning of 29 April 74, I wore a black armband to school to mark the relegation of Manchester United to the old Second Division, following a home defeat by Manchester City the previous Saturday (though that match has technically still never ended, having been abandoned minutes from the finish when the Old Trafford crowd invaded the pitch following City's winner). I wrote a chapter about this called 'Year Zero: 1974' in the United anthology Deepest Red, published last year, explaining that this had proved 'a formative, bitter experience for Reds of my age'.
As it concluded: 'It also helps to explain why some of us have long been expecting the glory years to come to an abrupt end. And, at the same time, why we are pretty sanguine about the prospect. Six short years after being crowned European champions, United finished second bottom of the First Division. The nearest equivalent disaster more recently was that in 2005, six years after being crowned champions of Europe again, United were "relegated" out of the top two in the Premier League, finishing third. Oh, the horror, the horror…'
Mick Hume is spiked's editor-at-large. He writes the column 'Kicking Against the Pricks' in Red Issue, the leading Manchester United fanzine

IN MOYES WE TRUSTED
by Tim Black
It may seem incredible, given David Moyes' current ability to provide every Old Trafford cloud with a soggy, grey lining, but when he was appointed Everton manager on 14 March 2002, it was as if a gingery, Glaswegian sun had suddenly burst through a nuclear winter – or 'the reign of Walter Smith' as it's known. Smith acted as if Everton were capable of little more than a scrape with relegation, but Moyes believed. And Everton fans like myself started to believe, too. He even famously made a virtue of Everton's lack of moneyed glamour, calling it 'the people's club'.
It's worth remembering what Moyes did to Everton, a club with a grand old history, but, back in 2002, a paltry present: he dragged the relegation-haunted club up the league table by its decayed boot straps. Reshaped in Moyes' rather Presbyterian image, the club seemed harder, more committed and less resigned. Players who showed anything less than total dedication were excommunicated, be it the drunken and drugged Dutchman Andy van der Meyde or the talented but party-happy Brazilian, Jo. At a 2003 press conference to announce that Wayne Rooney had signed his first professional contract, Rooney recalled Moyes whispering across to him as he drank water out of the bottle, 'use a fucking glass'. There was one way of doing things at Everton: Moyes' way.
Yet now, as he cuts a doleful dash pitchside, forever in the shadow of the onlooking Sir Alex Ferguson, history is being rewritten. If there is a Moyes way of doing things, it is limited and cautious. He can create a side that is well-organised, difficult to beat, and physical. But he will never be able to live up to the attacking traditions of Manchester United.
But that is unfair. Moyes' Everton were very different to how they appeared to those who never watched them. The majority of the key players during the Moyes years – from Thomas Gravesen to Mikel Arteta – were clever, often technical players, not powerhouses. More importantly, Moyes was always characterised not by a fear of losing, but by an almost intoxicating desire to win. Back in October 2002, an interviewer seemed surprised that Moyes seemed down given how well plucky Everton had played in defeat against the mighty United. Moyes was having none of it. 'I'm low because I wanted a result tonight, and I believed we could get a result here tonight… we don't pat ourselves on the back because we lost […] but people say we played well. That's not good enough. We want to come here [to Old Trafford] and get results.'
Admittedly, Moyes' stock has fallen considerably, even among Evertonians, since he was given a teary send-off at the end of last season. Partly this is down to the performance of his successor, the blindingly sunny Roberto Martinez. But it's also down to Moyes' unsentimental attitude towards Everton, apparent in the bungled attempts to sign Leighton Baines and Marouane Fellaini from his old club for the price, as it turned out, of, er, one Marouane Fellaini.
And it's this lack of sentiment that hints at one of his greatest strengths – his bloody single-mindedness. Given time, he'll be just fine at United.
Picture: Dave Thompson/PA Archive/Press Association Images
To enquire about republishing spiked's content, a right to reply or to request a correction, please contact the managing editor, Viv Regan.