Much ado about the 'quenelle'
The fuss sparked by Nicolas Anelka's goal celebration has sweet FA to do with anti-Semitism.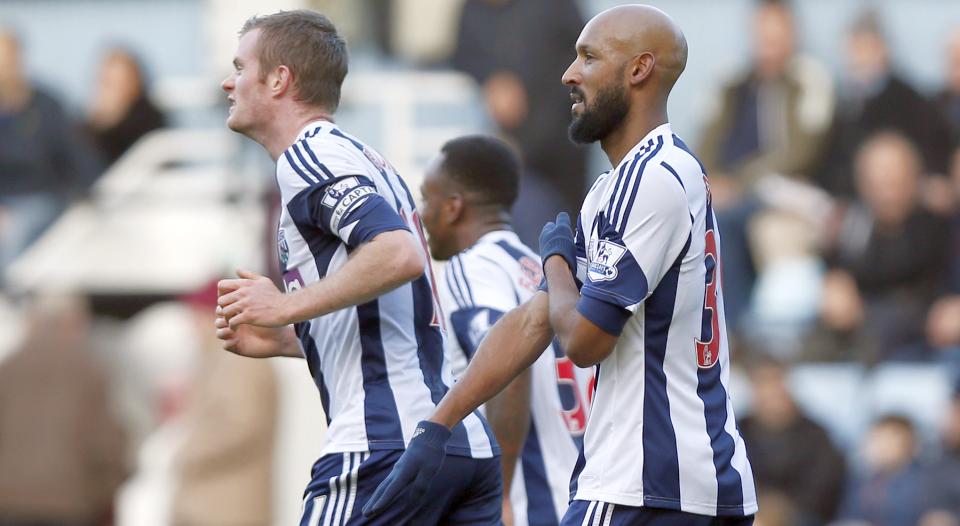 When West Bromwich Albion's French striker, Nicolas Anelka, scored the first of his two goals against West Ham during Sunday's English Premier League game, it's fair to say no one paid much attention to his celebration. It did look to be some sort of odd pose, a symbolic gesture even, but so what? When footballers score today, they often seem to mark it with some sort of slightly cryptic gesture or, more grating still, a painfully choreographed skit usually to mark the birth of a teammate's baby. In fact, by contemporary standards, Anelka's decision to mark his goal against the East End's finest by placing one hand to his shoulder, while extending his other arm to the floor, palm outstretched, was spectacularly unremarkable.
But that was at the time. Within a few hours, Anelka's seconds-long goal celebration had become an Anglo-French scandal. It turns out that what Anelka was actually doing, according to those schooled in the semiotics of contemporary anti-Semitism, was an inverse Nazi salute, combined with a quasi 'up yours'. While no one who actually saw it at the time recognised it as such, so byzantine was its symbolism, Anelka's ingenious gesture was actually part of an attempt to incite Jew hate, invoke Holocaust denial and inspire an anti-Semitic lynching. Or something like that.
French politicians were quick to enlighten football fans about Anelka's true intent. France's sports minister, Valérie Fourneyron, accused Anelka of a 'disgusting anti-Semitic' gesture. Her predecessor, Chantal Jouanno, backed-up Fourneyron and declared the gesture 'clearly anti-Semitic and known to be such'.
Ever in search of a whiff of race hate, UK's official anti-racist quangocracy, supported by the huffing and puffing sanctimony of the media, quickly joined the fray. Anti-racist group Kick It Out said it supported an investigation, before Piara Powar, the executive director of something called Football Against Racism in Europe, suggested that Anelka was aiding and abetting the rise of the far right: 'The rise of the far right is one of the most dangerous phenomena facing Europe right now… [and] they are active and alive in football'. A commentator in the Guardian was equally outraged: 'It needs to be made clear to footballers that using their profile to promote messages that may incite hatred and racism is unacceptable.' Over at the Telegraph, Henry Winter was concerned that unless the authorities clamped down on this sort of thing, Anelka's goal celebration could 'be adopted by xenophobes in England'. Which is surely preferable to Union Jack facepaint.
Given the volume of the by-the-numbers outrage, one could be forgiven for thinking Anelka had arranged a pogrom with West Ham's top boys, not marked a goal with a gesture no one would have noticed had politicians, campaigners and columnists not banged on about it for days. Moreover, despite the repeated assertion that the gesture is anti-Semitic, it's not actually clear what this combination of a salute and an up-yours really means. This much we know: the gesture itself originates with French comedian Dieudonné M'Bala M'Bala, known simply as Dieudonné; and it is known as the 'quenelle' because Dieudonné, who ran for the European Parliament in 2009 under the banner of the Anti-Zionist Movement, once said that he wanted to put a 'quenelle', which is both a rugby-ball-shaped blob of meat paste and slang for penis, up the arse of Zionists. Boom tish.
The reason for the current focus on Dieudonné in France, and the prompt for Anelka to roll out the gesture to mark a goal, is that Dieudonné was last week accused by the public prosecutor's office of 'incitement to racial hatred', which, as in the UK, is longstanding legalese for 'you can't say that'. Anelka 'did the quenelle', then, as a mark of support for a comedian he clearly finds laugh-out-loud hilarious.
But if the quenelle has any significance at all, it is not to be found in Nazi-era anti-Semitism; rather, it's to be found in the cynical conspiracy theory-laden Weltanschauung of the contemporary left, where the US and Israel are the up-to-no-good powers behind all that is wrong in the world. Popular among the young-ish and left-ish in France, the quenelle is a product of widespread estrangement from politics and society more generally, a gesture that plays upon a broad Wikileaks-style sense that the powers-that-be really are against us. It is of a piece with contemporary protesters' proclivity for wearing the Palestinian keffiyeh scarf – a sure-fire sign that you are a right-on supporter of the ultimate victims of America and Israel – rather than the Nazi fondness for brown shirts and goose-stepping. This certainly was how Anelka himself saw matters: 'The meaning of quenelle is anti-system. I do not know what religion has to do with this story.'
But in many ways, the political hermeneutics of a gesture named after a phallic euphemism is a distraction from the real problem here. Once again, a tediously trivial incident, up there with Liverpool's Luis Suarez not shaking the hand of Manchester United's Patrice Evra, or Chelsea's John Terry using the word 'black' during a heat-of-match altercation with QPR's Anton Ferdinand, has been seized upon by the official anti-racist industry and the media, and blown up into a national controversy. Why does this happen so often today? Why does the glorious trivia of the back pages frequently become the morally troublesome stuff of the front pages?
The answer lies in the politicisation of football, its transformation from a largely working-class pleasure into a political pulpit. It's not hard to see why: football, which enjoys unprecedented levels of popularity, is seen as the perfect means for isolated elites to connect with the masses, hence the absurd spectacle of the UK's Old Etonian prime minister, David Cameron, proudly claiming to be an Aston Villa fan. But football is not just a way for the deracinated political class to present itself as 'just like the rest of us', it is seen as a way into people's hearts and minds, an instrument for the moral education of the masses. The result has not just been unprecedented political involvement in football, but the growth of an etiquette industry around football, from assorted official anti-racist groups to campaigns around homophobia.
This is why football and those the fans worship – the players – have ceased to have a purely sporting significance. Footballers are seen as having a moral, political significance, too. They are moral exemplars, or to use the deadening jargon of the moment, role models; they are seen as having a moral effect on those watching the game. The monkeys on the terraces will do what they see their spiritual guides doing on (and off) the pitch. Hence a West Brom striker's goal celebration can be transformed into an issue of pressing importance. So low it seems is campaigners' and politicos' opinion of fans, that they think they'll turn anti-Semitic at the drop of a sulky French arm.
The problem then is not what it appears. Society is not really under threat from far-right political movements currently being forged in football stadia across the country. Rather, it is football – that beautiful, seriously inconsequential game – that is under threat from an all-too-mainstream political tendency – the tendency to treat fans as imbeciles and football as a means to control them.
Tim Black is deputy editor of spiked.
To enquire about republishing spiked's content, a right to reply or to request a correction, please contact the managing editor, Viv Regan.