Free speech after Duck Dynasty
A reality-TV controversy in the US shows that social intolerance can be just as bad as government censorship.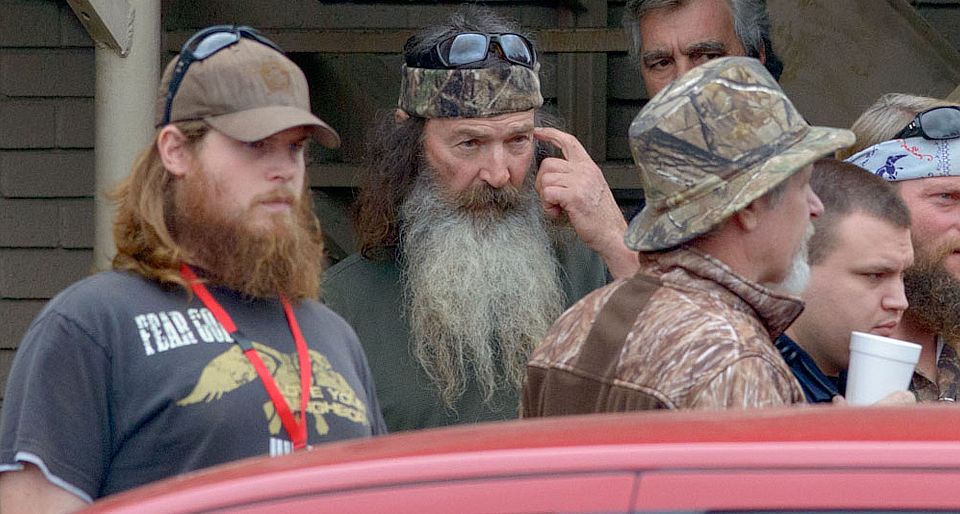 Many Americans spent the holidays talking about a man in a long white beard. No, not the one in a red suit with reindeer, but rather Phil Robertson.
Robertson, the patriarch of the family that stars in the popular reality TV show Duck Dynasty, was suspended a week before Christmas by his employer, TV channel A&E, for comments he made about gays. After receiving an outpouring of complaints from Duck Dynasty's fans, A&E reinstated him this past weekend.
The controversy reveals much about the limits on free speech today. Although relatively short-lived, the Duck Dynasty dust-up is not the first time that a public personality has been slapped by the PC police, and it is unlikely to be the last.
Interviewed by GQ magazine, the 67-year-old Robertson said: 'It seems like, to me, a vagina – as a man – would be more desirable than a man's anus. That's just me. I'm just thinking: there's more there! She's got more to offer. I mean, come on, dudes! You know what I'm saying? But hey, sin: it's not logical, my man. It's just not logical.'
Later, when asked to define sinful, Robertson replied: 'Start with homosexual behaviour and just morph out from there. Bestiality, sleeping around with this woman and that woman and that woman and those men.' He also said that the blacks he knew in the Jim Crow era were 'happy'. But it was his comments about gays that became the focus of contention.
His remarks sparked a Culture War. If the ensuing events were proposed as the script for a TV show, it would be rejected as too obvious and derivative. On one side is a family, as GQ describes, of 'squirrel-eating, Bible-thumping, catchphrase-spouting duck hunters' from the 'Louisiana backwater'. On the other side are gay groups like GLAAD and cosmopolitan liberals. After GLAAD and others called on A&E to fire Robertson, he was suspended. This led to a backlash from the show's supporters and conservatives, including Republican politicians, who waged a social-media campaign using the Twitter hashtag #istandwithphil.
As the controversy raged, a common refrain from those opposed to Robertson was that his sacking was 'not a question of free speech'. As MSNBC commentator Joy Reid wrote, 'the First Amendment to the Constitution does not guarantee the inalienable right to be on a reality-TV show. It is meant to protect the free speech of American citizens from being silenced by an act of Congress.' It's true that the First Amendment refers to government censorship, and that A&E is a private company. But free speech concerns more than just government interference, and the Duck Dynasty dispute is clearly a free-speech issue.
As John Stuart Mill articulated in his classic text, On Liberty (1859), there is such a thing as 'social intolerance', in which the majority or a culturally dominant elite can quash non-mainstream views. A society that cannot tolerate dissenting voices is not a free society. It is one thing to respond to a comment considered offensive by saying 'I disagree' or 'You're wrong'; it is quite another to claim 'You can't say that' and to seek to silence the view in question. Increasingly, however, 'You can't say that' is the prevailing reply, and it was how critics responded to Robertson. The focus on certain politically incorrect words or phrases today means that we are supposed to choose our words very carefully, or shut up altogether, for fear of giving offence. That's not a free society.
I can understand why some found Robertson's remarks offensive. I thought his anatomical references were bizarre more than anything else. But I also found it odd that people would be so shocked to find that a TV character that is based on a stereotype of rednecks is not exactly enamoured with gay people (reality shows apparently cannot take too much reality). Others have different views of what Robertson said. Some Christians believe he was simply stating a view in line with the Bible. Many people reacted with a shrug, not giving a whit about what a long-bearded guy on TV thinks. These varying reactions highlight an important point: we should not impose a single response – silencing and banishing a heretic – but instead should allow free speech and argue the issue out in public.
The storm over Duck Dynasty also revealed confusion over the ideas of tolerance and respect. The two are considered synonymous today, but they are not. Being tolerant of an outlook does not mean you have to respect it. When someone decries 'intolerance' these days, often they really mean that someone has not shown sufficient respect. But trying to force people to respect and validate certain views just creates a stifling conformity, which is not desirable. Yet this is what is happening: espousing non-mainstream views – in the case of Robertson, speaking ill of gays – now runs the risk of being treated as a form of blasphemy that must be removed. Moreover, in the name of fighting 'intolerance', those seeking to banish TV personalities from the airwaves are displaying a true lack of self-awareness, as they are being intolerant themselves.
What's different about the Duck Dynasty flap is the ending. Usually in these kind of controversies, the offending person is made to disappear (like celebrity chef Paula Deen, who was forced to exit the public stage in June after admitting she had used the n-word in the past). It could have been predicted that A&E would reverse its decision eventually: the Robertson family was reportedly ready to walk away; A&E would have lost lots of money; and its seriousness about punishing Robertson was questionable to begin with, considering it was running marathon repeats of Duck Dynasty through the holidays. But the speed with which it ended the suspension was surprising.
Robertson's reinstatement is not a complete victory for the show's supporters, however. A&E will now be subjecting its viewers to regular 'public service announcements', lecturing them on the need to respect diversity. And there are reports that the Robertsons may have to enter a re-education programme as part of the agreement to reinstate him.
Nor does A&E's decision mark a clear-cut win for free speech. The assumptions and misunderstandings around free speech that were raised in this controversy were not fully challenged. The next celebrity who says something that isn't PC may not have as much leverage as Robertson. What is clear is that controversies like the one over Duck Dynasty show that the battleground over free speech today is often over 'social intolerance' and calls to silence dissenting voices, rather than overt government interference.
To enquire about republishing spiked's content, a right to reply or to request a correction, please contact the managing editor, Viv Regan.