Mojo: all sass and no substance
The revival of Jez Butterworth's debut play is cool but shallow.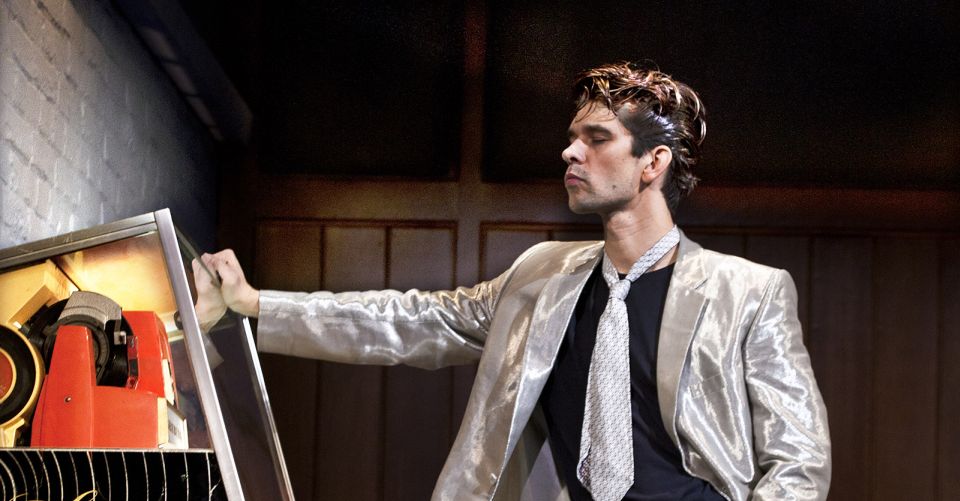 Following the success of Jez Butterworth's Olivier-winning, Broadway-conquering Jerusalem, his debut play, Mojo, is receiving a star-studded revival at the Harold Pinter Theatre. First produced in 1995 at the Royal Court, it launched the career of the man who has since become one of the most roundly successful and acclaimed playwrights of his generation.
Indeed, with hindsight, Mojo is a clear mission statement, Butterworth sowing the seeds of the work that was follow. Set in a 1950s Soho nightclub, it's a searing, kitschy, claustrophobic comedy, populated by absurdist motor-mouthed teddy boys, cracking one-liners to avoid staring into the abyss of their petty lives.
In short, it's all just a bit cool. I don't mean that flippantly. Being a bit cool is what Butterworth has built a career on. It's the source of his powers and his greatest weakness. He's a truly rock 'n' roll playwright; all sass and no substance, his plays only ever gesture to something grander and more meaningful beyond their immediate, superficial pleasures.
The first act is, admittedly, blisteringly entertaining. It opens on Potts (Daniel Mays) and Sweets (Rupert Grint), two affable underlings of a small-time mobster/nightclub owner called Ezra. Popping amphetamines, Potts and Sweets sit jittering outside the club's back office, as their boss negotiates the sale of his star performer, Silver Johnny (Tom Rhys Harris), with a rival gang lord. In a Godot-like effort to 'pass the time', the two smoke, sweat and chatter incessantly in a wickedly crass wide-boy patter: Potts' marvelling at the hip-swinging Johnny's supernatural ability to make 'polite young ladies come in their cocoa' is but one instant quotable, delivered with relish by Mays.
But amid these fiery exchanges, something more sinister lurks. Baby (Ben Wishaw), the bosses' son and the club's resident, immaculately coiffed bit of eye-candy, stalks in and out of the scene. His slow-speaking, childlike manner belying a chilly, psychopathic aura.
The plot moves into far stranger – not to mention darker – territory in the second act, as Ezra, having disappeared after the meeting the previous night, finally returns – sawn in half and dumped in two bins in the back-alley. Ezra's right-hand-man Mickey (Brendan Coyle) shows up and insists they all hunker down in the club over the weekend. The remainder of the play is slower, more frayed and sinister as the crew sit in wait, but there's still something strangely unmoving about it all.
Butterworth wears his influences very much on its sleeve. There are shades of Tarantino in Mojo's bloody finale and bursts of quintessentially Pinteresque dialogue, but it lacks any of the visceral menace of the former or the beguiling absurdity of the latter. Even the odd bit of wanton violence, revelations about paedophilia and maudlin anecdotes about hacking a cow to death on the side of a Welsh A-road fail to enliven Mojo's leaden rump.
Mojo seems aimed at plumbing the darker, more elemental impulses that lurk beneath the surface of polite society in back-alleys and dingy basement bars, but his characters are too broad to be truly effective. Much the same could be said of Jerusalem; although a far more nuanced and rewarding work, the most compelling thing about the characters is that they're loveable wreck-heads. Any lunges at pathos feel cack-handed and disingenuous.
The praise heaped on Butterworth over the years is understandable. His efforts to inject some pop-culture fizzle into theatre proper is a worthy enough aim, and in a sea of movie-adapted musicals and crusty Arthur Miller revivals, Butterworth's wry, whip-smart work is always going to stand out on the ever-pallid West End. But if you're looking for something more from the theatre than a good night out, give Mojo a miss.
Tom Slater is assistant editor at spiked.
Mojo is playing until 8 February at the Harold Pinter Theatre in London. Book tickets here.
To enquire about republishing spiked's content, a right to reply or to request a correction, please contact the managing editor, Viv Regan.