A new free-speech outfit – for less press freedom?
Even World Press Freedom Hero Sir Harold Evans backs a tough new regulator.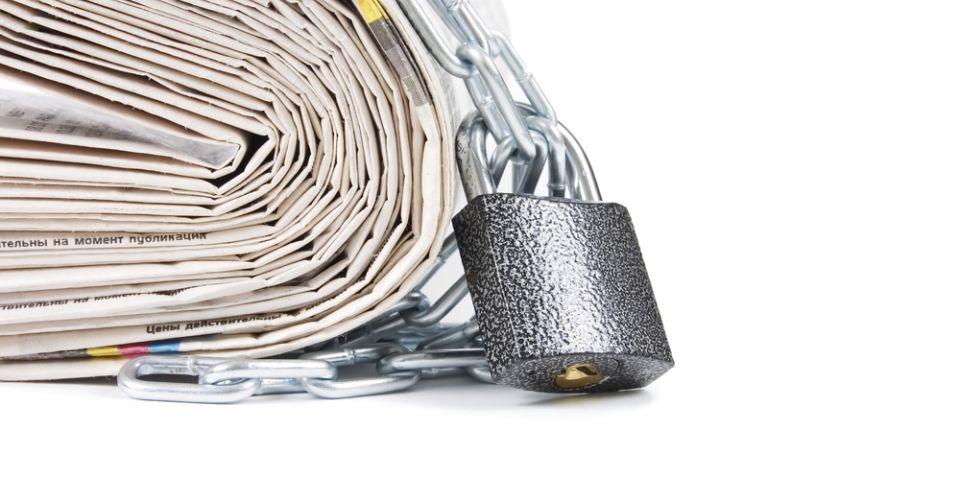 You might naively imagine that a free-speech campaign would be about campaigning for freedom of expression. But that, it seems, is a sadly outdated view. This week brought the high-profile launch of IMPRESS, self-billed as 'a new kind of free-speech organisation'. It is indeed – the 'kind of free-speech organisation' that does not appear to support freedom of the press, except for those views of which it approves.
The aim of IMPRESS – the Independent Monitor for the Press – is to set up an independent press regulator as an alternative to both the politicians' royal charter and the newspaper industry's own proposed regulator, IPSO – the Independent Press Standards Organisation. IMPRESS wants to establish 'independent press regulation with teeth' that can enforce the 'Leveson principles'.
The central principle of Lord Justice Leveson's report into the 'culture, practice and ethics' of the UK press is of course the assumption that the press has been too free to run wild and needs to be tamed. To that end IMPRESS wants to establish a regulator that can adjudicate on complaints, not only from those directly affected by what has been published but also from third parties and 'representative groups', and dictate the 'nature, extent and placement of corrections'. The IMPRESS body would also have the power, like IPSO, to investigate infringements of its code and impose fines of up to £1million.
In line with Leveson's proposal, print and online publications which sign up to IMPRESS would be offered the incentives of access to a cheap arbitration service and a kitemark as 'a badge of trust'. Those that refuse to join this 'voluntary' system would face the threat of exemplary damages and costs being imposed by the courts, even if they won a libel case. This marks the return of our old friend, the baseball bat disguised as a carrot.
The IMPRESS 'prospectus' also hints at ominous-sounding steps towards what would effectively be pre-publication vetting. It states that the regulator will 'offer an advisory service to news providers where there is a high risk of a breach of the code or civil law'. Whether or not news providers choose to obey this 'advice' will be 'taken into consideration' in any subsequent complaints procedures or court cases. In other words, toeing the line is voluntary, but if you don't volunteer to do as you're told there might be a high price to pay.
It is bad enough that anybody should add to the confusion and alphabet spaghetti surrounding the post-Leveson battle over press regulation by throwing another plan for a powerful regulator into the hat. Far worse, however, is that IMPRESS has been put forward by figures with a reputation as free-speech campaigners. The director of the project is Jonathan Heawood, former director of the writers' organisation English PEN. Trustees include the writer and libel-reform lobbyist Lisa Appignanesi and liberal journalist/presenter Isabel Hilton.
Most strikingly – and sadly – the patron of IMPRESS is none other than Sir Harold Evans, the former editor of The Sunday Times and current editor-at-large of the Reuters news agency. In 2000 Evans was named as one of the World Press Freedom Heroes of the previous 50 years.
It might seem odd that such prominent campaigners for free speech should now be proposing tougher regulation of the press, in the name of, er, press freedom. But in fact it is typical of our age of illiberal liberalism, when campaigners tend to defend free speech not unconditionally, but largely for those views of which they approve. In practice these are not so much free-speech campaigners as proponents of the politics of 'free speech, but…'
The key is the IMPRESS endorsement of the 'Leveson principles'. The Leveson Inquiry and report represented a concerted attempt to draw a line between high-minded 'ethical, public interest' journalism which deserves freedom of the press, and the supposedly vulgar, salacious tabloid version which apparently does not. That snobbish prejudice runs through the IMPRESS proposals, endorsing an elitist view of the press in the name of 'ethical journalism'.
As Sir Harold Evans puts it in his statement of support for IMPRESS, the creation of such a tough regulator is 'a necessary condition of the freedom of the press to act in the public interest'. So the freedom of the press to publish and be damned is subtly redefined as 'the freedom of the press to act in the public interest'. And who is to define what is meant by that vital concept? The 'public interest' is to be decided by IMPRESS's independent regulator. This will be 'independent' of politicians, newspaper publishers – and, of course, of the general public. Instead it will be left to the judges, lawyers, hackademics and other members of the great and good sitting on regulatory committees to rule on what might be in our interest to see, read and hear.
The one-eyed view of press freedom is summed up by IMPRESS director Heawood who, during his time at PEN, made clear that he would defend the right of Danish newspapers to publish cartoons offending Muslims, but not the 'bigotry' of British footballers and fans using offensive banners or chants. Announcing the launch of the IMPRESS project this week, Heawood said: 'We believe in the freedom of the press to tell us what's really going on in our society. But we don't believe in a press which ruins people's lives just to sell newspapers. That's not press freedom; it's bullying.'
Such use of the language of the school playground is presumably intended to make a clear distinction between the 'naughty' popular press and the well-behaved ethical media. But that line in the sandpit is not quite as clear as Heawood suggests. IMPRESS trustee Isabel Hilton, for example, is an editorial advisor to the Bureau of Investigative Journalism, the outfit responsible for the sensational report on the BBC's flagship Newsnight programme which falsely accused a top Tory of being a paedophile. Strangely there has been little liberal outcry about that scandalous attempt to destroy somebody's life in order to get an audience.
Sir Harold Evans was The Sunday Times editor whose campaign did much to expose the thalidomide scandal in the Sixties and Seventies – using methods, such as paying whistleblowers, which are now illegal under British law, and would be frowned upon even more under the 'Leveson-compliant' regime he now favours. Since his glory days, Evans, the hero of press freedom, has spent a lot of time in the US. It seems a great pity he did not imbibe more of the free spirit of America's First Amendment, rather than the sanitised sanctimony of the UK's illiberal liberals.
One last word on the IMPRESS proposal to issue a kitemark, to be 'prominently displayed on all subscribing publications'. The prospectus declares that 'in the online environment, publishers may find a kitemark particularly valuable as a badge of reliability'. Thanks, but no thanks. spiked will not be applying for any badge of approval from IMPRESS or any other regulatory body. A kitemark is normally a sign that something is safe, sterile and child-friendly. That might be appropriate for double glazing, but not for a web magazine such as spiked or any other part of the trouble-making, dirt-digging press.
If this is now the hallmark of 'a new kind of free-speech organisation, I only know that I am not a 'free-speech campaigner'. But I remain a defender of the unequivocal, indivisible freedom of expression and of the press, with no 'buts' and no obligations to 'impress' an allegedly ethical elite.
Mick Hume is spiked's editor-at-large. His book, There is No Such Thing as a Free Press… And We Need One More Than Ever, is published by Societas. (Order this book from Amazon(UK).) Visit his website here.
To enquire about republishing spiked's content, a right to reply or to request a correction, please contact the managing editor, Viv Regan.