Nigella: a private life on trial
Nigella Lawson's private life has provided a feast for hypocritical broadsheet commentary.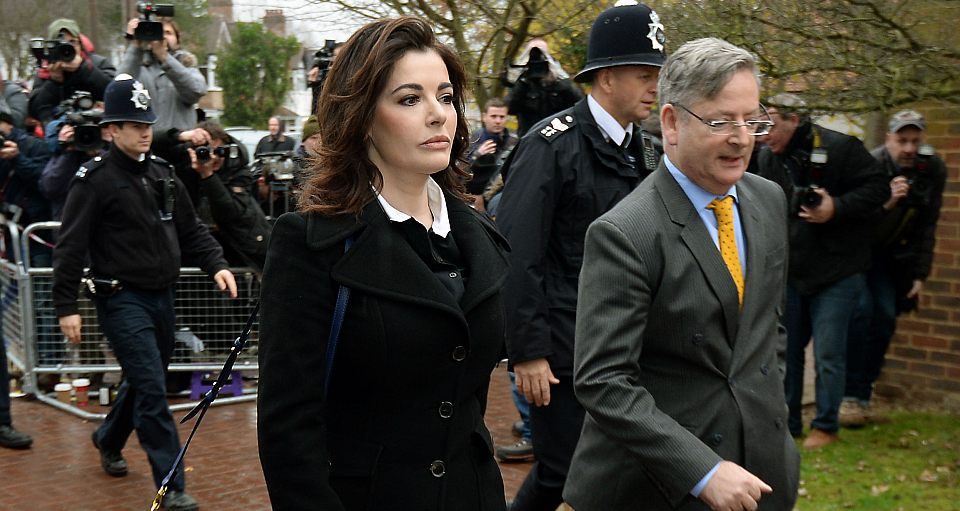 It's not exactly the trial of the century. Italian sisters Francesca and Elisabetta Grillo, who worked as personal assistants for a famous couple (now divorced), stand accused of defrauding their one-time employers of hundreds of thousands of pounds. The Grillos counter that their company credit-card sprees, complete with first-class flights to luxury resorts, were tacitly approved by the wife in return for keeping her drug use secret from her husband. So far, so Dynasty.
Yet as everybody now knows, it is not the fraud trial itself that has gripped the nation's hacks, and tickled the commentariat's fancy. That honour belongs to the other trial, the trial involving the famous couple themselves, Charles Saatchi and especially Nigella Lawson.
Of course, Saatchi and Lawson are not actually on trial in any legal sense. There's no dock for them, no judge and jurors. No, they are sat in the far less formal court of public opinion, marshalled in this particular case not just by the tabloid press, which has always loved to rent the veil on the rich and famous, but by broadsheet pundits, too – the kind of people who usually claim to be above 'this type of thing'. So, with the trial throwing up all sorts of intimate information over the past week, Lawson and Saatchi's private life, the life they alternately enjoyed and endured behind closed, clichéd doors has been gleefully rendered up for public consumption and judgement.
It's made for a dispiriting, headline-news grabbing spectacle. The private fact now publicly established – that Lawson, at certain points during her 53 years of existence, snorted a few lines of cocaine – has been the occasion for frontpage splashes and handwringing commentary. Much of this has no doubt been written by people who are themselves no strangers to a powdered nose. The private fact now publicly established that Saatchi and Lawson's 10-year marriage was not one long sepia-tinted summer afternoon of soul-mated clinches has provided sanctimony-fodder for commentators' columns – no doubt written by people who know themselves that relationships are complex, multifaceted things. In short, the private fact now publicly established – that Lawson's life has been as dark as it has been light – has provided too many with a chance to get their disingenuous rocks off.
But what's striking about the treatment of Lawson in particular is not the attention of the tabloids – celebrity scandal, even one as non-scandalous as this, has always been their stock and trade. No, what is noticeable has been the attention of the so-called respectable, broadsheet press. They claim to be above celebrity tittle-tattle, except in their ironic, supplement moments; they're meant to disapprove of gawking at her 'on the telly' having difficulties off it; they're meant to be only interested in the big important issues, stories that they snootily claim post-Leveson are 'in the public interest'. And yet there they all are, feasting on Lawson's troubles and Saatchi's upset, like starving men at an all-you-can-eat buffet.
The broadsheet pundit's trick has been to present this voyeurism, this nasty, gossipy carnival, as something other than it is. So while the tabloids unashamedly wallow in revelatory muck, presenting their wares in all their tawdry glory, the respectable, liberal-ish journo is keen to suggest there is some higher, moral purpose to their rubber-necking. So, back in the summer, when photos were published of Saatchi and Lawson arguing outside a London restaurant, Saatchi's apparent lunge for Lawson's throat provided countless commentators with a chance to snoop and speculate about what was then still a marriage. Many justified this moralistic prattle on the grounds that they were 'raising awareness' about domestic abuse. As Brendan O'Neill noted at the time, a writer for the Telegraph hoped that 'the sight of Nigella frozen in fear, as her husband apparently chokes her' would help explode some of the 'myths about domestic violence'. Others were keen to identify Nigella as a potential 'lightning rod to raise awareness about domestic violence'. A private life was suddenly made fair game for public intrusion; rumours could be passed off as fact, speculation presented as truth.
Of course, none of these righteous souls had any real idea about the private life of Saatchi and Lawson. That's the thing about people's relationships: they are opaque to outsiders and they resist easy moral categories. But that didn't stop the commentariat. Under the specious auspices of a domestic-violence awareness-raising campaign, they snooped and they gawped and they gossiped.
The sanctimonious excuses to snoop have now changed. It's not so much domestic violence that is acting as the pretext for broadsheet types to insinuate themselves into private life of Lawson; it's now a whole heap of sub-Great Gatsby guff about the seedy underbelly of seemingly perfect lives; it's about the impossibility of living up to the mantle that Lawson supposedly claimed, namely, that of 'the domestic goddess'; it's about exposing the futility of aspiring to the kind of life Lawson seemed to be selling us. 'Drug use in the paradisical ponds of Chelsea?', asks one Guardian pundit: 'That is the cognitive dissonance that maims.' An Independent columnist, after dwelling in detail on the revelations, even tries to draw a moral lesson from Lawson's travails: 'It would be desperately sad if the original Domestic Goddess wound up a major casualty of the Having It All generation, but it would make a certain bitter sense. Nigella Lawson would be hardly the only fiftysomething woman who has acted a part to perfection while living a lie.'
It seems that the treatment of people's private lives as public objects, to be chewed over and spat out in moralising fits of judgement, now has a respectable broadsheet face. But no matter how its purveyors try to dress up this assault on the private sphere, no matter hard they try to turn this rather squalid enterprise into some sort of worthy cause, it remains what it is: mean-spirited, gossipy and voyeuristic.
Tim Black is deputy editor of spiked.
To enquire about republishing spiked's content, a right to reply or to request a correction, please contact the managing editor, Viv Regan.