India's marvellous mission to Mars
India's bid to reach the red planet is a cause for celebration, not cynicism.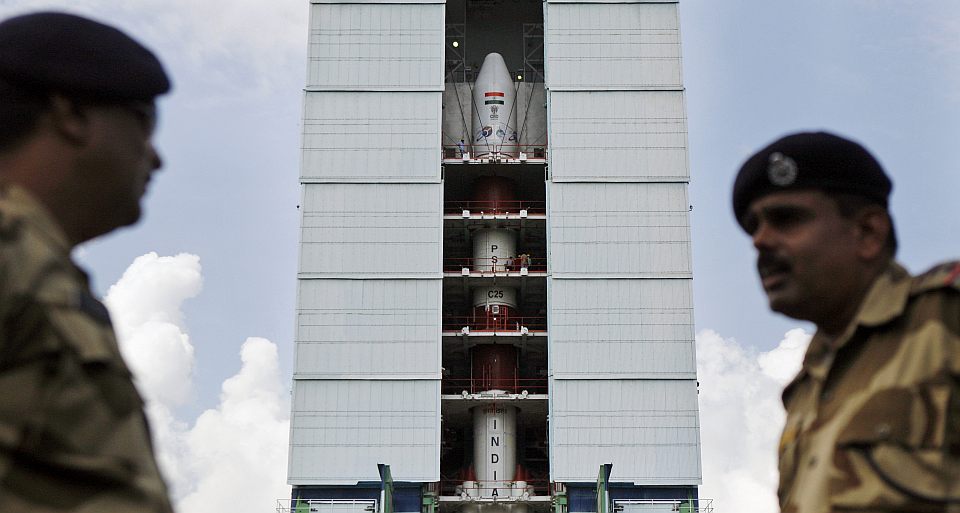 Last week, scientists at the Indian Space Research Organisation (ISRO) launched a rocket carrying an unmanned spacecraft. The spacecraft has one destination: Mars. If successful, the ISRO will be only the fourth space agency in the world, and the first in Asia, to reach Mars.
The IRSO's bid to reach the red planet is exciting and ambitious. Yet that is not how many, especially in the West, are viewing it. Instead, with references to India's poverty, this Mars mission is being presented as irresponsible, profligate and irrational.
While India's rocket launch made headlines, it did so only as something incongruous, to be juxtaposed with India's poverty. The reports typically feature weasel phrases such as '…regardless of the country's overwhelming poverty' or '…a country more associated with extreme poverty than with space exploration', and so on. As a Guardian Express headline helpfully informed us: 'India Mars mission to launch amid overwhelming poverty.'
One Indian commentator was understandably annoyed by the repetitive invocation of India's social problems as a criticism of the Mars mission. He asked if this would happen in relation to, say, the UK or the US. Would a space mission involving those nations feature arbitrary references to America's hurricane relief in the aftermath of Katrina or the London riots of 2011?
But his voice was rather isolated amid the cynicism. The Economist, for instance, asked, 'What if the 16,000 scientists and engineers now working on space development were deployed instead to fix rotten sanitation?', as if science and engineering could only have one stipulated purpose in a country with economic and social problems. Some went further still, complaining about the temerity of the Indians launching a £45million space programme while the UK is still giving it aid money.
This outrage about India's supposedly 'irresponsible' behaviour is driven by India's perceived refusal to adhere to the basic-needs approach that dominates attitudes to development, especially among development economists, Western governments and the UN. So primary education, drinking water, basic healthcare and the reduction of extreme poverty are deemed appropriate and desirable goals for poor countries. But anything aspirational is discarded as reckless and imprudent. It is little wonder that Jean Dreze, a development economist who has made a virtue out of living in a slum, was particularly scathing, calling the mission the 'Indian elite's delusional quest for superpower status'.
Dreze is not alone in his patronising dismissal of the programme as an irrational and egotistical indulgence on the part of India's leaders. Many analysts have derided India's Mars mission as something which only exists to stoke India's nationalistic pride. Others imagine a twenty-first-century version of the Cold War, only this time featuring India and China as the key protagonists.
While the motivation behind the Mars mission might well include some elements of nationalistic pride, it is too cynical to dismiss space exploration as the irrational desire of Asian countries to outdo each other. Moreover, that India's space programme has come a long way is a good thing; it points to India's increased means and wealth, born of the country's economic achievements over the past two decades.
Those who have defended India's space programme have done so either on the basis of its relative cheapness ($75million) or the potential benefits for ordinary people in terms of better weather forecasts. At nearly one tenth the cost of NASA programmes, ISRO's expenditure may seem remarkable – or unremarkable even, if the claim that Indians spend over $800million annually on Diwali fireworks is to be believed. Either way, these arguments fall into the same trap as the critics of the Mars mission: they fail to acknowledge or celebrate the mission in its own terms, as something inspirational and progressive.
India has its problems in the here and now. But what makes all of us human is our flight from the constraints of the here and now, our desire to explore our technological abilities, to push the limits of what is possible, to take risks, succeed and maybe fail. I know I will be rooting for the success of India's mission to Mars and I hope many more countries will join the so-called race for space.
Sadhvi Sharma is a PhD student at the Rajaratnam School of International Studies (RSIS) at the Nanyang Technological University in Singapore.
To enquire about republishing spiked's content, a right to reply or to request a correction, please contact the managing editor, Viv Regan.