Let's debunk the de Blasio myths
Far from being a socialist, New York City's new mayor is Bloomberg Take 2.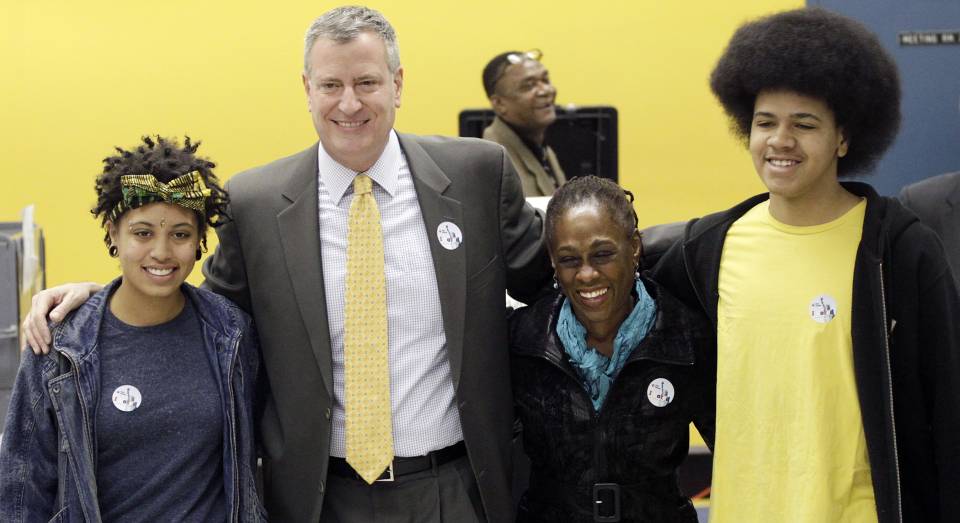 On Tuesday, Democrat Bill de Blasio won a landslide victory to become New York City's next mayor. De Blasio will replace Michael Bloomberg, the billionaire technocrat known for, among other things, his nanny-state bans on smoking, trans-fats and large sodas. It is the first time in 20 years that a Democrat has been at the helm of America's largest city.
De Blasio's win was widely described as a 'leftward shift' behind a man the New York Times calls an 'audacious liberal'. At the victory party in his trendy Park Slope neighborhood of Brooklyn, de Blasio entered the stage to the pounding beats of Lorde's anti-consumerist anthem 'Royals', and proclaimed the city would be set on a 'progressive path'. He reiterated his campaign theme of 'a tale of two cities', of rich and poor, saying the city 'should leave no New Yorker behind'.
Liberals hailed the result as a major triumph, with wider significance beyond the Big Apple. Pundit EJ Dionne said de Blasio's victory speech 'will be read as a manifesto for a new progressivism'. Sixties radical Tom Hayden says de Blasio's support is the 'latest sign of the shift towards a new populist left in America'.
Conservatives agreed that de Blasio's election was a major turn, but in the wrong direction – towards socialism. They highlighted his trip to Nicaragua to work with the Sandinistas in the late 1980s, and his honeymoon in Cuba in 1994. The New York Post referred to him as 'Che de Blasio'.
Most of all, right-wingers warned that de Blasio would take New York City back to the high crime levels seen before Republican Rudy Giuliani took office in 1993. The only notable thing de Blasio's opponent, Joe Lhota, did during this year's election race was to run a hysterical TV ad saying New York would return to pre-Giuliani rioting and mayhem.
The ad fell flat, and so did conservatives' arguments generally. This was not because New Yorkers had embraced socialism, but because de Blasio's opponents painted a picture of him and a future New York that few saw as bearing any relation to reality.
As it happens, both left and right are endowing de Blasio's election with more importance than it really has. While conservatives' only response is to claim erroneously that de Blasio is a blast from the past, liberals peddle the fantasy that de Blasio was swept into power behind a mass movement for progressive change.
Start with the almost accidental way in which the Democratic Party nomination fell into de Blasio's lap. The Democratic contenders were an 'only in New York' circus. Christine Quinn was the long-time frontrunner, raising the possibility of becoming the city's first lesbian mayor. But when Quinn, the City Council leader, came out of the bureaucratic backroom meetings and into the media spotlight, she lacked a clear message and showed she was not ready for primetime.
With Quinn failing, the lead went to Anthony Weiner – the former congressman who resigned in disgrace after admitting he had tweeted photos of himself and his bulging underpants to random women. The fact that someone as scandal-tainted (and lacking in political accomplishments) as Weiner was topping the polls highlighted how lacklustre the candidates were (including de Blasio, who was not on the radar then). But a forgiving media concluded that the therapy-going and baby-carrying Weiner deserved a second chance. That is until news emerged in late July that he was still sexting, using the alias Carlos Danger. A woman named Sydney Leathers (yes, that's her real name) came forward, and Weiner was done (although not before complaining that, if the web had never been invented, he would be mayor). Ms Leathers has since embarked on a career in porn.
With Quinn and Weiner down, de Blasio was next in line. Hardly anyone outside of Park Slope had heard of him. When first gaining attention in the summer, there was lots of media interest in his family, especially his wife, Chirlane McCray, a black women who identified as a lesbian before meeting de Blasio in the 1990s. De Blasio's 15-year-old son Dante, who sports a prominent Seventies-style afro, became the face of his campaign, rather than de Blasio himself. All agree that Dante's ad was the turning point, catapulting his dad into the lead by mid-August. Never mind 'tale of two cities', the real campaign slogan became 'go with the fro'. De Blasio's sales pitch was much more Multiculturalism in One Family than Socialism in One City.
Having secured his party's nomination, the election versus Republican Joe Lhota was no contest. In New York Democrats outnumber Republicans six to one, and thus they are the default option. Historically, non-Democrats like Giuliani and Bloomberg are more the exception. Despite their Democratic leanings, New Yorkers will plump for a Republican mayor if the city is in crisis and/or the candidate is more dynamic. Neither was the case this year: the city is in a fairly stable condition and Lhota is dull.
De Blasio's supporters claim that his victory was a mandate for broad-scale change, but it's simply not true. Lost among all the focus on de Blasio's lopsided win is the fact that the turnout was a record low – only 24 per cent. This was a revolution that three-quarters couldn't be bothered to leave their house for.
The notion that de Blasio is radical is laughable. He is a longstanding member of the Clinton machine. He is a protégé of the pragmatic Democratic strategist Harold Ickes, and worked under Bill Clinton and (now New York state governor) Andrew Cuomo. He also ran the New York senate campaign for that leftist rabble-rouser Hillary Clinton.
De Blasio's backers will point to his rhetoric about inequality as evidence of his radicalism. But there is nothing more mainstream and tame today than talking about the gap between rich and poor. What is de Blasio's radical plan to tackle the city's inequality? Raising taxes on those earning more than $500,000 by half a per cent, to 4.4 per cent, and using the funds for pre-kindergarten and after-school programmes. Not exactly a Soviet Five Year Plan, nor even a liberal Sixties-style Great Society. Rather than representing a blow for class warfare, this is something that the wealthy themselves – including Wall Streeters that back de Blasio – support (many don't appreciate how much the attack on the one per cent originates from within the one per cent itself). But as it happens, the odds of New York State approving de Blasio's token gesture are slim.
De Blasio claims to represent a new dawn after the end of the Bloomberg regime. There are differences between de Blasio and Bloomberg; in particular, de Blasio says he will end the police's 'stop and frisk' tactic, which disproportionately targets black people (a move that civil libertarians like me welcome). But what's more striking is how much de Blasio has in common with Bloomberg, the man he rails against. De Blasio the 'audacious liberal' wants to raise taxes, increase spending on education, build more housing, and improve public health. And as Nicole Gelinas points out, this all sounds very familiar: 'Just in the past 12 years, New Yorkers have lived through Bloomberg's first-term tax hikes (and another tax hike, in the sales-tax rate, four years ago), his doubling of the education budget, his construction or maintenance of 150,000 new subsidised-housing units, and his various efforts to keep New Yorkers from smoking cigarettes, ingesting trans fats, and drinking too much soda.'
On this last point, de Blasio has expressed his support for Bloomberg's nanny-state measures, so it would not be a total surprise if he introduced a few of his own. And we already know he has his own set of loopy ideas, including his proposed ban on horse carriages in Central Park, in the name of animal rights.
It's not as if all is well in New York. Bloomberg has left serious economic problems, and the poverty rate is high. Manufacturing has disappeared, leaving an
'hourglass' economy of bankers and other professionals at the top, low-paid healthcare workers and unemployed at the bottom, and not much in between . As Joel Kotkin has noted, the hollowing out of the middle means that 'you replace working/middle-class Italians and Jews for young, often single, hipsters'.
Inequality in New York is caused by broad economic forces, including financialisation of the economy (raising the top) and immigration (adding to the bottom). There are limits to what a mayor can do to address these forces. But a positive contribution would be to suggest how best to broaden the base of New York's economy beyond Wall Street, support a growth in the economy, and create jobs. De Blasio does not do that; instead he offers rhetoric about 'two cities', mild redistribution, and warmed-up Bloomberg ideas.
In declaring de Blasio to be its saviour, the left only shows its desperation. At a time when Obama and the Democrats are taking a beating from the disastrous roll-out of the Obamacare health reforms, talk of a 'new populist left' is a comfortable refuge from reality.
There once was a candidate who spoke of 'hope' and 'change' and who was considered 'audacious'. It turns out his audacity was to sell minor reforms as if they were transformational. To paraphrase a real commie: when history repeats itself, the second time is farce.
Sean Collins is a writer based in New York. Visit his blog, The American Situation.
Picture: Mark Lennihan/AP/Press Association Images
To enquire about republishing spiked's content, a right to reply or to request a correction, please contact the managing editor, Viv Regan.