The free-school fightback
A head defends his free school from the naysayers and right-on critics.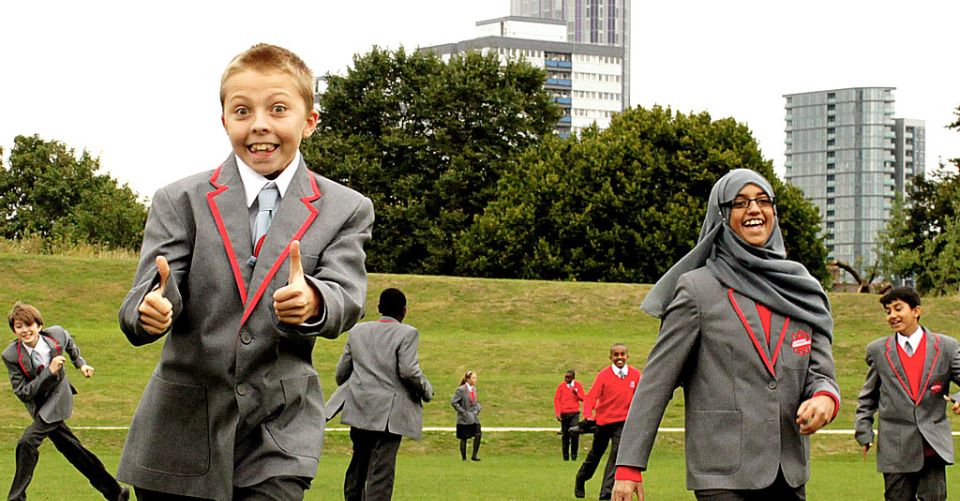 'It's the last day of this half-term so we were going to play inter-form football later', says David Perks, head of the East London Science School (ELSS). He casts a rueful look out of the window. 'It looks like it's going to be too wet now.'
The weather aside, Perks is in a good mood – and no wonder. The ELSS, a free school for year 7 (age 11) upwards, housed in a series of converted mills in Newham, east London, has only been open since the beginning of September. And while, as Perks smilingly says, 'it's been proper', he and his team have pulled it off – there are nearly 100 pupils now attending with many more set to join in the new year.
The ELSS is far from alone, of course. Since the free-school programme was launched with the Academies Act 2010, 174 have opened in England, each one state-funded but independent of the local authorities. And there are many more immersed in the application and approval process.
As Perks, a former teacher at a south London comprehensive, makes clear, setting up a free school is very far from shadow education secretary Tristram Hunt's caricature of a 'vanity project undertaken by yummy mummies'. It is a project, but it is arduous and demanding. 'You have to be a bit mad to do it', he says. 'We did it for a year without funding, trying to prove the point that the school was needed, designing the school, designing the budget – it's a real test of a group's commitment. There are various interviews at each stage of the application process, various tests to gauge whether you're up to it. I lost four or five people along the way because the process was so demanding.'
Even after the Department of Education (DfE) has given a school the go-ahead, there's the small matter of attracting the pupils. In the ELSS's case, this was made doubly difficult by the fact that its funding only arrived after the school admissions process had closed last October. 'We recruited outside schools, on the street', Perks says. 'And we did this for the most part without a building. So we had to meet the parents and kids in cafes.'
Establishing the ELSS was a big commitment, then, not just on the part of the team behind it, but on the part of the parents and kids willing to join up. Perks agrees. 'It means we've got a fantastic set of parents and kids who absolutely want to be here. And the parents are not frightened of telling us when something's not right. This past half term, we've learnt so much.'
'We're not a middle-class school'
What sets free schools apart from their state-sector peers still in thrall to local authorities is that they have far greater freedom when it comes to staffing, the curriculum, the structure of the school day, the length of terms, and so on. So in the case of the ELSS, it teaches a core curriculum which not only includes maths and English, but classics, too. And it does all this in a school day that concentrates the academic work into four-hour blocks in the morning, leaving the afternoons free for a whole variety of trips and extracurricular activities.
With after-school clubs running until 5.30pm, the ELSS has even done away with homework. 'Effectively, if you're middle class, homework tends to add', explains Perks, 'but if you're working class, homework tends to subtract. Why does it subtract? Because invariably the kids don't do it: they have no help, they don't know what they're doing, so they go home and flounder around. The missing bit is school. So instead of asking parents to help the pupils at home, we do it all in school. And when the kids go home, they can have a life!'
Perks certainly makes free schools sound like an exciting opportunity, a chance to pursue an ideal of education, to do away with the target-led shackles of the state sector. But, unfortunately, the public debate around free schools has been rather less edifying. Instead, the fact that free schools are the brain-child of Tory education secretary Michael Gove, the man teachers and the right-thinking classes just love to loathe, has made them the object of near automatic disdain. They are unthinkingly presented as a key part of the Tories' determination to pick on the poor, to cast the lower orders into a failing state-school ghetto, while the middle classes, their elbows sharpened on Cameron's Old Etonian stone, set up their cosy little free schools and preserve their privilege and wealth. As one broadsheet columnist put it: '[Free schools] are part of an ideologically charged campaign to strip the state of all but its most basic functions.'
The critical hyperventilation that has come free schools' way has been relentless. Recently, a Cambridge academic was happy to label free schools 'a 'lousy Tory sham' designed to serve 'the ruthlessly ambitious middle classes and religious zealots'. The chair of the Bristol Association of Secondary Headteachers and Principals called them 'socially divisive', 'middle-class school[s] for middle-class parents'.
Perks is adamant that this is not the case. 'It's just not true', he says. 'There have been one or two cases [of free schools] where you think, "they're just building that school for themselves". But often when that's the case, it's a free school being set up in a small community. That the school is dominated by a middle-class constituency would have been the case, free school or not.'
In London or any other metropolitan area, Perks explains, it's different. 'If you open a free school in London, for instance, it's very hard to determine who comes in, unless you create a very weird set-up – and the government has said it doesn't want to do that. Our admission criteria at the ELSS are as non-selective as it's possible to be. The bottom-line criterion, which only comes into play if the school's full, is line-of-sight distance to school, and that's it.'
'We are not a middle-class school dumped in the area', Perks continues. In fact, he tells me, 40 per cent of ELSS pupils qualify to get school meals free of charge because they come from relatively poor families, which is higher than the borough of Newham average. 'To put it another way, we've got our characters here, and do you know what, we're teaching them', he says.
'Sir, what's the point of learning this?'
And so we come to the teaching. This has been the latest focus of a lot of anti-free school ire, not because there's any evidence that it's substandard. Far from it. The perceived problem, rather, is that you don't have to be a qualified teacher, carrying your postgraduate certificate in education (PGCE) as proof, to teach in a free school. Here Perks is at his most trenchant – and enlightening.
'We have a couple of teachers here without formal teaching qualifications', he admits. 'But what they do have is a real passion for their subject, which they have to have in order to pull off what we're doing – because we are having to take pupils an awful long way. In this sense, it's not just a job.'
I ask him if that means he doesn't think teachers need a qualification. 'I think the qualifications that exist today are highly politicised, and as a result, I find what they add to you as a teacher is a bit dubious. And by politicised, I mean that the teaching courses are absolutely obsessed with the accountability criteria as set out by Ofsted [the schools inspectorate]. So it's a bit like a factory – you learn an interpretation of the Ofsted criteria, and that's what you then take into the classroom.
'In fact, what I found at my previous school, is that when a new teacher starts, you actually have to un-teach the PGCE to get them to be able to teach the pupils. I used to tell new teachers, "leave behind what you've been told, and just go in there and teach the pupils something". It sounds stupid, but what I was getting at was that to teach, you have to stop building a lesson structure around the criteria by which you think you're going to be judged, around ticking the boxes you think you have to tick because that's what you've been told. You forget that what you're trying to do is inspire the pupils and get them to engage with a real subject. So I always try to get teachers away from the mechanics, the means, and get them to look at why they're teaching a particular subject, the ends of education.'
Speaking to Perks, it becomes clear the question of 'why am I teaching?', the question of 'what is education for?', is central to his pedagogy. It's the point at which a teacher's conviction will emerge, the prompt for them to grasp why they think others ought to love a subject like physics as much as they do. As Perks puts it: 'The best question a child can ever ask you is "Why do I have to know this? I'm never ever going to use it in my life." It's not the teenager being typically sulky or sullen; what they are asking you, as a teacher, is "Why should I do this, sir?". They want you to tell them the answer. They want you to lead.'
For Perks, then, the most important thing about being a teacher is not the formal qualification, the certificate that says 'she can teach'; rather, it's the desire on the part of the teacher to teach something, because that teacher believes that that something is worth knowing. 'Our English teacher here is teaching the pupils Beowulf, because she's passionate about it. And no student asks her "Why are we reading Beowulf?".'
'It's very simple', he continues, 'if you believe in it, they'll believe in it. It's the adult-child thing. You're the adult in the room, you're the authority, you believe in what you're teaching, and they want to know why. They want to know why you're so excited about this. They might not understand, but they'll still take their lead from you.'
Perks returns to his criticism of the educational status quo. 'When a system is built on jumping through hoops – without ever knowing why subjects are being taught – then you're in trouble. And that is one of the main reasons I wanted to set up this school, because here we all believe in what we're doing.'
Little wonder then, that those who object most vocally to free schools are teachers in the state sector, aided and abetted by the teaching unions: the very existence of free schools is experienced as a criticism of the way they're doing things in the state sector. And in a way, of course, it is. 'If state education is so good', asks Perks rhetorically, 'then why do so many kids want to come here?'.
There are a lot of people working in state education who really want the free schools project to fail, says Perks. 'They want to be able to say, "look, we are right to carry on as we are", which is a defending-your-own-patch mentality. So when people talk about defending state education, you think they're defending education for everybody, but they're not – they're defending different bits of the educational system, saying "leave us alone, let us do it our way – this is our castle, get off". Which is daft, we're all in the game of education, not defending our own patches.'
'To me, it's good education that matters and I don't care who delivers it. Give kids a good education – it's as simple as that.' And with that, I let Perks get back to what he lives and breathes: the school. The weather's brightened up, too. He claps his hands and grins. 'We'll be playing football now.'
Tim Black is deputy editor of spiked.
To enquire about republishing spiked's content, a right to reply or to request a correction, please contact the managing editor, Viv Regan.