Dizzee Rascal: Keeping da boy in his corner
Why white middle-class journos want rap stars to stay in the ghetto.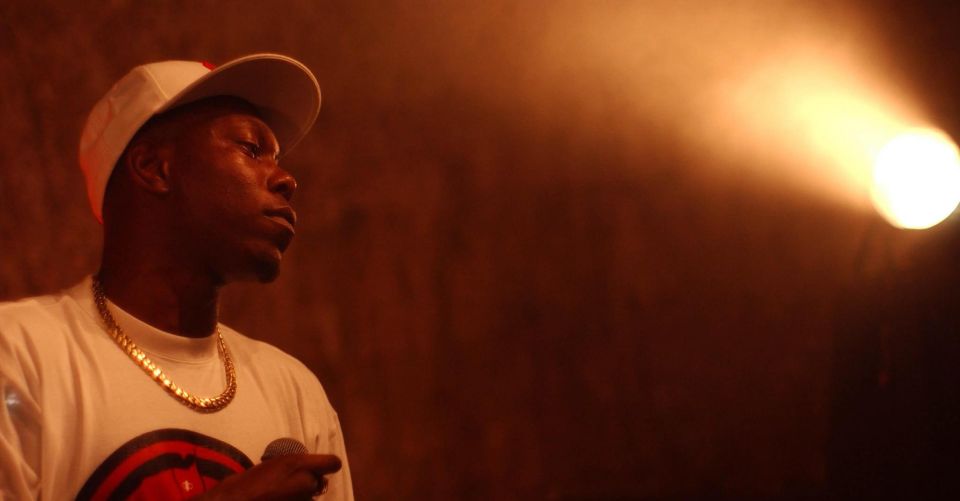 It always seems to be the way that the moment a rapper gets out of the ghetto, becomes successful and starts waxing lyrical about the good life rather than the thug life, all of his white middle-class fans stop listening. But in his new e-book, Stand Up Tall: Dizzee Rascal and the Birth of Grime, Guardian scribe Dan Hancox takes this in-built aversion to poor musicians doing well for themselves to new heights.
Released to mark the 10-year anniversary of Boy in da Corner, Dizzee's era-defining, Mercury-winning debut, Hancox sets out to chart a history of the MC and the scene that bore him. And yet his distaste for the former Bow boy's material success, since releasing a slew of braggadocious, chart-topping anthems, is so great he refuses to even write about anything past the release of his second LP. 'I'm just not as interested in what he's done since Showtime – in "Bonkers", or his notorious Newsnight interview, or the single with Robbie Williams – so I haven't written about them', he states plainly in the afterword.
Instead, Hancox chooses to focus solely on the early days – when things were still 'real', one supposes. Still, clearly a thoroughbred fan, he manages to convey a sense of the passion and energy of grime's formative years. In the first chapter, he describes 'grime's 100 Club moment', when the emerging stars of the east London scene gathered together atop a rugged Stratford council estate for a now legendary pirate radio broadcast. The whole event was caught on video, showing the likes of Wiley and Kano passing the mike and spitting furiously over the beats laid by DJ Karnage, before the decks screech to a halt as a fight almost breaks out between Dizzee and fellow MC Crazy Titch. Hancox recounts the scene with a certain relish and remains fixated on the altercation for much of the book.
On the one hand, this grainy bit of footage serves as the 'quintessential visualisation of grime' in its burgeoning intensity, but it also marked the point at which these two talented MCs who had grown up together began taking very different paths. The fact that now, a decade later, Dizzee splits his time between his condo in Miami and his mansion in Kent, while Titch languishes at Her Majesty's Pleasure on a murder charge, seems to titillate him no end. But, as the book wears on, you begin wonder which of the two he reckons has had a life better spent.
As Hancox notes, the furious energy and unique aesthetic of grime grew out of a sense of alienation and claustrophobia that defined life as an East End teen under New Labour. Operation Trident, the Metropolitan Police's anti-gun crime taskforce, took to shutting down raves, ASBOs essentially criminalised hanging about, and newly installed CCTV kept a watchful eye over every street young people walked. Dropping the lighthearted skippidy-dee rhyme style and joyous two-step of the fading garage sound, grime was raw, essential and dissonant. It was DIY, yes, but also purposefully obnoxious in its squalling electronics and tinny beats, over which the MCs spit tales of gangland violence, thwarted ambitions and urban decay at a blistering 140 beats per minute.
In this captivating and virulent new genre, Boy in da Corner was lauded as a totemic statement from the slighted underclass. At the time, one Guardian writer was driven to suggest that 'every MP in Westminster should be forced to listen to it', but Hancox takes this one step further, painting the album not only as a reflection of social degradation but an implicit critique of unfettered capitalism itself. With Bow, the birthplace of grime, just a few miles away from the city's financial sector, it served to reveal the grim reality behind the sheen of free market, trickle-down prosperity, he opines.
Thus for Hancox, Dizzee's desire to cross over, make the big money and forever leave poverty behind was a concession to the Thatcherite rot. In one passage, he describes the blinking light atop One Canada Square as 'east London's version of the green light at the end of the dock in The Great Gatsby', drawing the young Dylan Mills in a zombie-like haze towards the promise of a moneyed 'orgastic future'.
Admittedly, Dizzee, in his relentless chasing of radio hits since he first came to prominence, has never quite reached the same heights as his trailblazing debut. But the source of Hancox's distaste seems not to be that he's making bad music but that he's even successful at all. Tellingly, he dedicates his book (you know, this book about Dizzee Rascal) to a complete unknown called Pepper, who recorded one known freestyle track before disappearing completely: 'He has otherwise left no trace…I know literally nothing about him but that. And it's fine if it stays that way.'
From Hancox's frankly bizarre and warped perspective, grime artists should just keep making music in 'authentic' obscurity so middle-class voyeurs can get their rocks off to gritty streetlife tales that vindicate their shallow, anti-capitalist politics. For him, Crazy Titch is probably better off in prison than in Miami, and Dizzee should have just stayed in his corner.
Image: Joel Ryan/PA Archive/Press Association Images
To enquire about republishing spiked's content, a right to reply or to request a correction, please contact the managing editor, Viv Regan.