Two hours hate for the Daily Mail
An anti-Daily Mail demo that turned out to be more therapy session than political protest.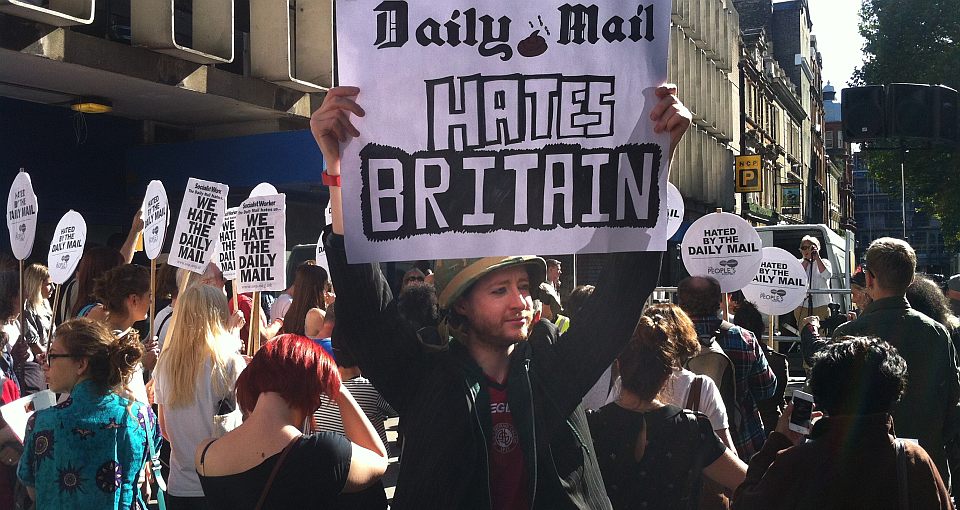 Over the past week, the ongoing battle between the Daily Mail and Labour Party leader Ed Miliband has dominated headlines in the UK. It all started when the Mail published an article in which it described Miliband's father Ralph as a Marxist who hated Britain. Many on the left and the right – including the Conservative prime minister, David Cameron – expressed their solidarity with Miliband and supported his demand that the Mail should apologise. So far, however, the Mail's editor Paul Dacre has refused to say sorry.
This weekend, Miliband's supporters took matters into their own hands and organised a protest. So it was that on Sunday afternoon, the Socialist Workers' Party, trade unionists, Muslim leaders and anti-war campaigners all gathered outside the Mail's headquarters in Kensington under the collective banner of 'Hated by the Daily Mail'. Some may wonder why the Mail's piece has caused such a furore. After all, Marxists often self-identify as internationalists with no allegiance to the state under which they live. Was it that the Mail failed to take into account that Ralph Miliband was also a British war veteran who helped fight the Nazis? Was it the fact that this paper, infamous for showing a degree of support for Oswald Mosley's Blackshirts in the 1930s, is now launching an attack on a Jewish refugee? Sort of, and not really.
Seeing that 1,200 people had signed up to the protest on Facebook, I expected to find a relatively large demonstration. I thought I would hear speeches describing the harmful influence of the Mail on the people who read it and on the rest of British society. Instead, there were about 200 people and all I heard was a broad call for a more polite society where rude articles, like those in the Mail, don't exist. 'Why can't people just be nicer?', seemed to be the cry.
In the same way that the Leveson Inquiry, which began as an investigation into unethical journalistic practice, became a tabloid witch-hunt, many of the demonstrators here used the Mail's hatchet job on Ralph Miliband as a way to express their disgust at the Mail's behaviour in general.
The primary gripe of most of the protesters was that the Mail is mean to people. 'Hated by the Daily Mail', read one placard. 'Unfair, unkind and untrue', read another.
'The message is clear', said campaigner and Independent columnist Owen Jones, who helped to organise the protest. 'Enough is enough, stop your campaign of hatred'. Jones said the Mail had demonised large sections, of society including public-sector workers, immigrants, trade-union members and women. 'We are speaking up for decency… this is a show of cheerful defiance by all the people who have been picked on by the Daily Mail.'
The demonstration seemed to be little more than an outdoor therapy session for personal Mail-related grievances. For example, UK Uncut campaigner and journalist Ellie Mae O'Hagan stood before the crowd and told everyone about her personal experience with the Mail. She claimed to have been smeared twice. Once because a Mail article questioned her qualification to be on Newsnight, and second because it tried to contact family members to discover more about her background. It's ironic that a UK Uncut activist who campaigns against tax avoidance and demands full transparency from others is so aggrieved when someone tries to make her background that little bit more visible.
As I chatted to people, it became clear that many wanted the right-wing Daily Mail to stop being the right-wing Daily Mail. Some told me they were not calling for the paper to be shut down. 'I don't want to destroy the Mail', Paris Lees told the crowd. 'I actually believe that the loss of any British national newspaper would be a tragedy'. But when I asked her about the call for an advertising boycott, she said that might be a good way to regulate the Mail out of existence.
Meanwhile, National Union of Teachers member and Tower Hamlets local councillor Rania Khan told me a call to close the paper would be a good idea. 'If they don't change their ways… if they're going to be a problem to society, if they're going to be irresponsible in journalism and present stories wrongly, then I think there should be a call to shut them down.' I reminded Khan that many papers, even left-wing broadsheets, have printed shoddy stories in the past. I asked her what she thought of the Guardian's accusation that News of the World journalists had deleted the voicemail messages on a murdered teenager's phone, an accusation which turned out to be untrue. 'I don't know much about the story in terms of what the Guardian had said', Khan told me. 'The Guardian gives everybody an opportunity to speak, especially in the Comment is Free section. So I've had an opportunity to write in the Guardian and it's been published.' It seems that chief among the list of the Mail's crimes is that it is not the liberal Guardian.
If this protest was not calling for censorship of the press, then what was driving it? It seemed to be a group-therapy session for people who were there to proclaim that they are not Daily Mail readers. Protesters seemed desperate to assert that they are 'Hated by the Daily Mail', and they seemed equally keen to proclaim their love for gay people, immigrants and the NHS – basically, anything that the Mail has been critical about. Indeed, one protester's t-shirt seemed to summarise the entire purpose of the demonstration: 'I heart black people.'
The gathering, with its angry sulking at the Mail's attacks on their myriad personal identities, expressed a confusion and incoherence that couldn't even say what it wanted.
Ironically, given the claims that the Mail is full of hate, the protest didn't seem to have a very clear idea of what it was for, but it was very certain of what it was against. So sure enough, after two hours – rather than the usual two minutes – of anti-hate, everyone trooped off home, sure in the knowledge that they didn't like the Mail and the Mail didn't like them. Hardly an outcome worth holding the front page for.
Saleha Ali is a writer and researcher based in London.
To enquire about republishing spiked's content, a right to reply or to request a correction, please contact the managing editor, Viv Regan.