Laughing at the lower orders
Much hyped gangster comedy Barking In Essex is a car crash of a show built on snobby satire.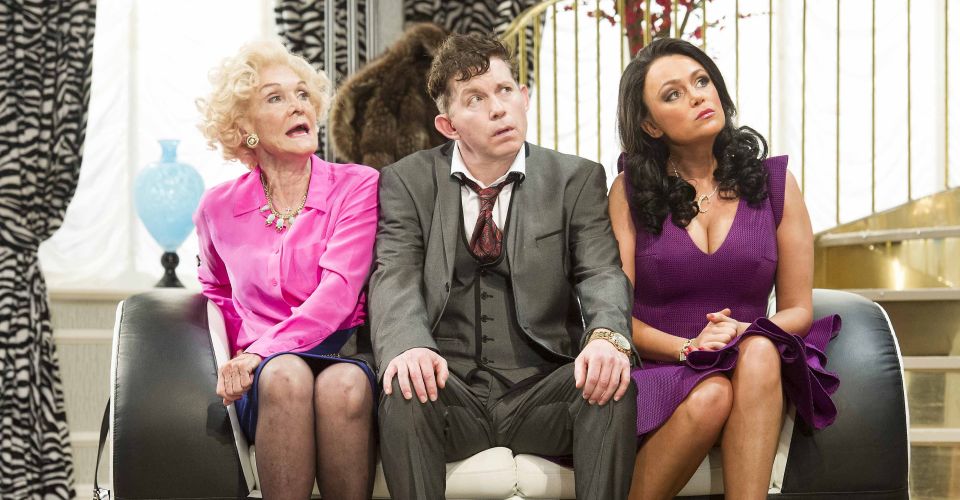 There's an old story about George Best, told by a hotel waiter who once delivered champagne to his room. Seeing Miss World in Best's bed covered in cash from the casino, the waiter asked: 'Mr Best, where did it all go wrong?' Well, something similar applies to the much-hyped gangster comedy Barking In Essex, which opened in London's West End this week. Surely it had everything going for it – including a cast with modern-day Norman Wisdom, Lee Evans, grand dame Sheila Hancock and TV glamour girl Keeley Hawes. Even the late author, TV writer Clive Exton was supposed to be class. So where did it all go wrong?
Barking In Essex is quite simply a slow-motion car crash disguised with a monumental amount of f-ing and blinding. This is all the more surprising because it has quite a promising set-up: low-life Essex family unprepared for the return of little bruvver who's been doing time in jail for stealing £3.5million that he's got stashed away in used notes. The problem of course is that Mum (Hancock) has gone and blown the lot, with a little help from her half-witted son (Evans) and his improbable wife (Hawes). In order to deal with the problem of the spent cash – exacerbated by the arrival of little bruvver's fiancé – the family hire old school hit man Rocco Dimaggio (Karl Johnson) who lives just over the road.
It used to be a rule of comedy that no one gets hurt. Very nearly hurt but never actually hurt. Or at least not in a way they can't bounce back from. But even allowing for the modern appetite for black comedy, this play has a disconcertingly high body count and the climax itself involves an onstage killing which is quite simply distasteful and ill-judged. Maybe with more story Exton might have got away with this, but his play is as light on action as it is heavy on rambling, profane dialogue. The section where they discuss the incestuous family tree conceived on the bonnet of a spivvy motor is completely pointless – serving only as a sneer at the characters. And yet if you need to bury dead bodies under a comic patio, jokes have to come thick and fast – not thin and occasional.
We are also obliged to set aside the fact that Essex jokes have become as old hat as a town crier's tricorn. But what is less forgiveable is that in line with so much modern comedy, such as Little Britain, this is very much a satire of the lower orders. It used to be that satire was a form for speaking truth to power. It served to subvert the exploitative delusions of the great and good. Here though we're just presented with a cross section of vulgar fools who serve to set aside any criticism of wealth or power.
Be that as it may, director Harry Burton really needed to amp-up the under-pressurised situations. Instead, he allows the cast to carry on as though they've got too much time on their hands, only fitfully remembering to act anxious. The moment when one character is thrown down the stairs with barely even a struggle, is almost blasé. Before that, one of Evans's trademark physical comedy dance routines is over almost before it's begun. His clownish style of acting is however completely out of kilter with the others' naturalism. Nor is it ever clear exactly how thick he's supposed to be – he knows the meaning of 'exonerated' but lapses into all sorts of solecisms elsewhere including saying 'portray' for 'betray'.
At least Simon Higlett's predictably bling stage design gets a laugh when the curtain goes up with its black and white leather sofas, gold staircase and a couple of tacky Banksy pictures in the background. Otherwise it's down to Hancock to hold the show together. The bulk of her laughs come from the fact that she's an old lady who uses the c-word a very great deal and her impeccable timing ensures it stays at least mildly amusing for the first twenty minutes – and once in the second half. Karl Johnson meanwhile fizzes nicely as the old school assassin, but the casting of Hawes as a cheap and cheerful Essex girl is hard to fathom. She's not a comic actress and comes across as almost rather grand – a posh girl slumming it. Could she be trying to avoid stereotyping in a stereotypical comedy? Who knows?
By the end, the experience is toe-curling even though three audience members contrived to give it a standing ovation on opening night. This only served to rub in the brevity of the applause elsewhere and the longevity of the tumbleweed silences that greeted the jokes before that. Unlike the First World War, Barking will be over by Christmas.
Patrick Marmion is a freelance journalist, playwright, founder of Soapbox debating forum and a part-time tutor at the University of Kent. Visit his website here: www.patrickmarmion.co.uk.
Barking In Essex is playing until 4 January 2014 at Wyndham's Theatre, Charing Cross Road, London. To book visit the show's website or call 0844 482 5120.
To enquire about republishing spiked's content, a right to reply or to request a correction, please contact the managing editor, Viv Regan.