Time's up for this Ruddy technocracy
The Oz electorate should give the Labor Party the kicking it deserves.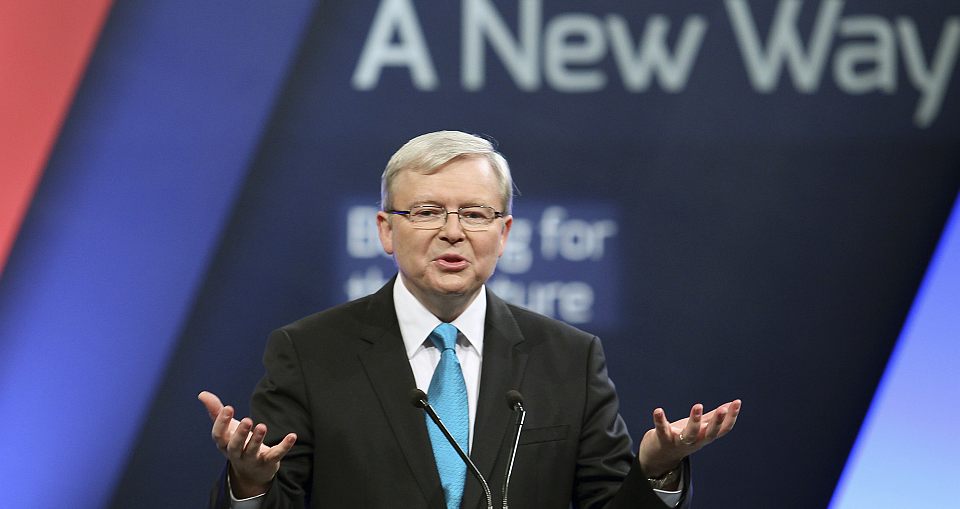 There is unlikely to be a newspaper in Australia that will recommend a vote for Labor in Saturday's election, which will suit prime minister Kevin Rudd as he lines up his excuses for defeat.Ever since News Corporation's Sydney tabloid the Daily Telegraph urged its readers to 'Kick this mob out' on its front page on day one of the campaign, Labor has been attempting to frame this election as a fight between Rupert Murdoch and democracy. The case collapses on a number of fronts, not the least of which is that the soft-left Fairfax newspapers are also arguing for a change of government, albeit through gritted teeth.
Before embracing any conspiracy, it is wise to ask the question: is there a less convoluted explanation for the phenomena I am seeking to interpret? If there is, it is wise to take it, unless one wants to spend one's life crawling over the Grassy Knoll trawling for spent bullet cases. So is the Murdoch empire orchestrating a devilish campaign to bring down a brave and visionary leader, Kevin Rudd? Or are editors and commentators merely coming to the conclusion that this Labor government couldn't organise a bun fight in a bakery? When foreign minister Bob Carr complained about Murdoch's maleficence on ABC's Lateline last week, presenter Emma Alberici asked: 'But isn't it entirely possible that they [the press] believe your government hasn't been a good one?' To which Carr replied: 'It could well be the case.'
The latest opinion polls put Labor's support at 33 per cent, suggesting the popular verdict is clear. The Economist has a different view, editorialising last week in Labor's favour. It concludes: 'Rudd gets our vote, largely because of Labor's decent record.' It is a point of view, to which the magazine is welcome, but for anybody who has followed the carnage and mayhem of Australian politics over the past six years, The Economist's view is counterintuitive, to put it mildly. The day before the editorial was published, the online booking agency, sportsbet, suspended betting on the election and began paying out on a victory for the Coalition's Tony Abbott.
The Economist appears to be betting that either the bookies or the Australian people have got this one wrong. From the vantage point of its offices in London The Economist presumes to possess either knowledge more perfect or judgement more reasonable that the citizens of Australia.
The Economist has fallen for the technocratic delusion that Friedrich Hayek examines in The Use of Knowledge in Society, an essay Wikipedia founder Jimmy Wales says helped inspire him to create his collaborative encyclopedia. Hayek, writing in 1945, notes that it had become fashionable to downplay the wisdom of the streets and assume that the experts, armed with lumps of aggregated information, knew best. Yet, as he pointed out, 'these facts are never so given to a single mind', which is why commentators, like central planners, so often get it wrong. It is hardly surprising that an international magazine, so remote from the world it describes, should fall for the technocrat's delusion, nor that by doing so, it should find itself backing Rudd, the supreme technocrat.
Rudd presents himself as a visionary, modernising leader, telling one audience last week: 'I don't apologise for being in the vision business.' He is campaigning as the great man of history, as the leader possessed of extraordinary insight, intelligence and perfect reason. He is the man who claims he can be trusted to make 'the big calls' for the country. Where Martin Luther King had a dream, Rudd has a plan. On Monday he told journalists: 'We have a plan to build the industries of the future… we also plan to build the number of the nation's apprentices, we have a plan that is a hospitals and health plan… we have a better schools plan… we have a plan to complete the roll out of the National Broadband Network, we have a plan to help families under pressure… they're our positive plans.'
Rudd came to power in 2007 with a swag of plans, few of which came to anything much, except to thrust the heavy hand of government further into the business of everyday life and infantilise its people.
He promised an 'education revolution', under which the government would purchase laptops for every high-school child in the country, an item Rudd called 'the toolbox of the future'. Six years later, as schools wonder what to do with the obsolete and broken computers, the Australian Department of Education has stepped in with a programme for safe disposal.
When Rudd decided in the middle of the financial crisis that stimulus spending was required, he came up with a plan to insulate the roofs of every home in the country in double-quick time. It became a magnet for cowboy contractors, who employed unskilled labour for much of the work. Four people died from electrocution, and shoddy workmanship was blamed for 1,000 house fires.
Of the myriad failed technocratic schemes dreamt up by the Rudd government, the national broadband network was the most audacious of them all, a plan to link 90 per cent of the homes in this wide, brown land by fibre-optic cable running up the front door. It has been a logistical nightmare. Six years after Labor came to power, only two per cent of homes are connected. The government sticks to its guns, insisting that it remains within its $37 billion budget, but industry estimates put the true cost at up to three times that amount.
If there is any logic to history, a victory for Abbott on Saturday would mark the end of Labor's brave experiments in central planning, and a return to a less hubristic, consultative form of government in which it is recognised that not all relevant knowledge is contained within the boundaries of the Australian Capital Territory. As opposed to Rudd, Abbott is an enemy of the technocrats, a leader who promises 'a bonfire of the regulations' should he be elected as prime minister on Saturday.
Abbott's vision reaches beyond the knowledge class to draw wisdom from the crowds. As he said recently: 'My vision for Australia is not that Big Brother government knows best; it's that our country will best flourish when all of our citizens, individually and collectively, have the best chance to be their best selves. Government's job is rarely to tell people what to do; mostly, it's to make it easier for people to make their own choices.'
On Sunday, Rudd's wife, Therese Rein, told an anecdote intended to paint the prime minister in an endearing light: 'I want to introduce a husband who, when sent to Bunnings for a mozzie candle, comes back with Roman flares, blue tack, an extension cord, potting mix, a step ladder, but no mozzie candle.' It is story that helps explain why the demand for a grand political vision has fallen sharply under this technocratic government, and why on Saturday, the wisdom of crowds will prevail.
Footnote: Ever a newspaper to surprise, The Age took the bold step of advocating the return of a Labor government in its editorial on Friday. Its sister paper, The Sunday Age, and Fairfax's The Sydney Morning Herald and Sun Herald all backed the Coalition.
Nick Cater is the author of The Lucky Culture (and the rise of an Australian Ruling Class) published by HarperCollins Australia.
Picture by: AP/Press Association Images
To enquire about republishing spiked's content, a right to reply or to request a correction, please contact the managing editor, Viv Regan.