The end of redemption
An English football club's refusal to sign a promising Belgian player once convicted of rape shows a society unwilling to forgive and forget.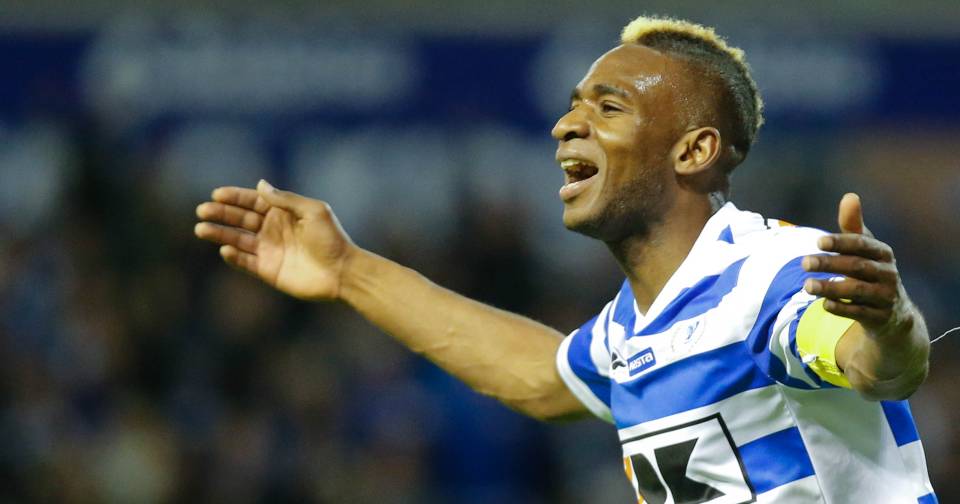 Footballer Henry Blaha once said that if 'rugby is a beastly game played by gentlemen, soccer is a gentleman's game played by beasts'. Not anymore, it seems. Today, football is all too keen to purge beasts from the field of play.
That goes for ex-beasts, too, like Gent striker and Belgian international Ilombe Mboyo. Even though Mboyo appears to have hung up his beast boots long ago, having served three years behind bars for his part in the rape of a 14-year-old girl when he was 16, West Ham have refused to sign him after an 'outpouring' of fan rage. Where did this outpouring take place? Why, the only place to have an 'outpouring' nowadays: Twitter, the trendiest hotbed of inane opinion spunking.
Of course. Where else would a Premier League football team get their transfer ideas from? It was the club chairman's son, Jack Sullivan, who took to Twitter to gauge the reaction of the 'fans'. It was only after '99 per cent' of the fans said no, through Twitter of course, to signing Mboyo that Sullivan said he would 'tell his dad' not to sign him.
Since when did we, as a grown-up society that is the product of thousands of years of human civilisation and ingenuity, take Twitter – so often just a mouthpiece for the highly annoying – so seriously? Since when did football clubs, which once only cared about whether players were any good, start turning to the Twittersphere to make their buying decisions for them?
I am willing to wager that most West Ham fans are not tweeting. After all, most people in the real world are out there doing more interesting things than waiting desperately to refresh their Twitter feed. But in any event, not signing a player because of his history of sexual offending is absurd. Lord knows there are plenty in the football league with criminal records. Birmingham City striker Marlon King has a conviction for sexual assault; QPR's Joey Barton can barely go a season without transgressing the Offences Against the Person Act; and further afield, Dutch legend Patrick Kluivert has a conviction for manslaughter.
The only thing preventing Mboyo being treated like anyone else is the nature of the crime he has been convicted of. Today, the climate around sexual offending is such that not only are the victims of such offences viewed as permanently damaged, but the perpetrators are similarly seen as irredeemably evil, fit only to be cast into the backwaters of society and away from the public eye.
It took the president of the Belgian Football Association, Francois De Keersmaeker, to point out that it was 'too easy to stigmatise'. Mboyo might make quite a 'good role model', De Keersmaeker said, given that he has managed to turn his life around from being a member of a Belgian street gang at 16 to becoming an international footballer at 25. Such stories of personal redemption should be inspiring illustrations of the unique power of human beings to transform themselves.
Signing a player like Mboyo should not be 'controversial'. It should be celebrated as an example of how a civilised society should treat an individual who has served his time and strived to become a better person. Now, because of the spasmodic outpouring of a few West Ham tweeters, coupled with a chairman (and his son) overly willing to take the opinion of the Twittersphere seriously, Mboyo will learn a hard fact about English society: that no matter how much time you do, for certain offences, we are simply unable to forgive. How depressing.
Football clubs should care about whether strikers can score goals, not whether their history will meet with approval from the twits who spend too much time tweeting. West Ham have not only lost out on what could have been a decent signing – Mboyo has now signed for another Belgian club, KRC Genk – but the rest of us have lost out, too. That's because we appear to have accepted the idea that for certain people, for certain kinds of offender, redemption is simply impossible. It is this denial of the human capacity for redemption which will relegate us all from gentlemen to beasts.
Luke Gittos is spiked's law editor. He is also a paralegal in criminal law and convenor of the London Legal Salon.
Picture: BRUNO FAHY/Belga/Press Association Images
To enquire about republishing spiked's content, a right to reply or to request a correction, please contact the managing editor, Viv Regan.