Djokovic's revenge
How the tennis champ stuck it to the lockdown elites.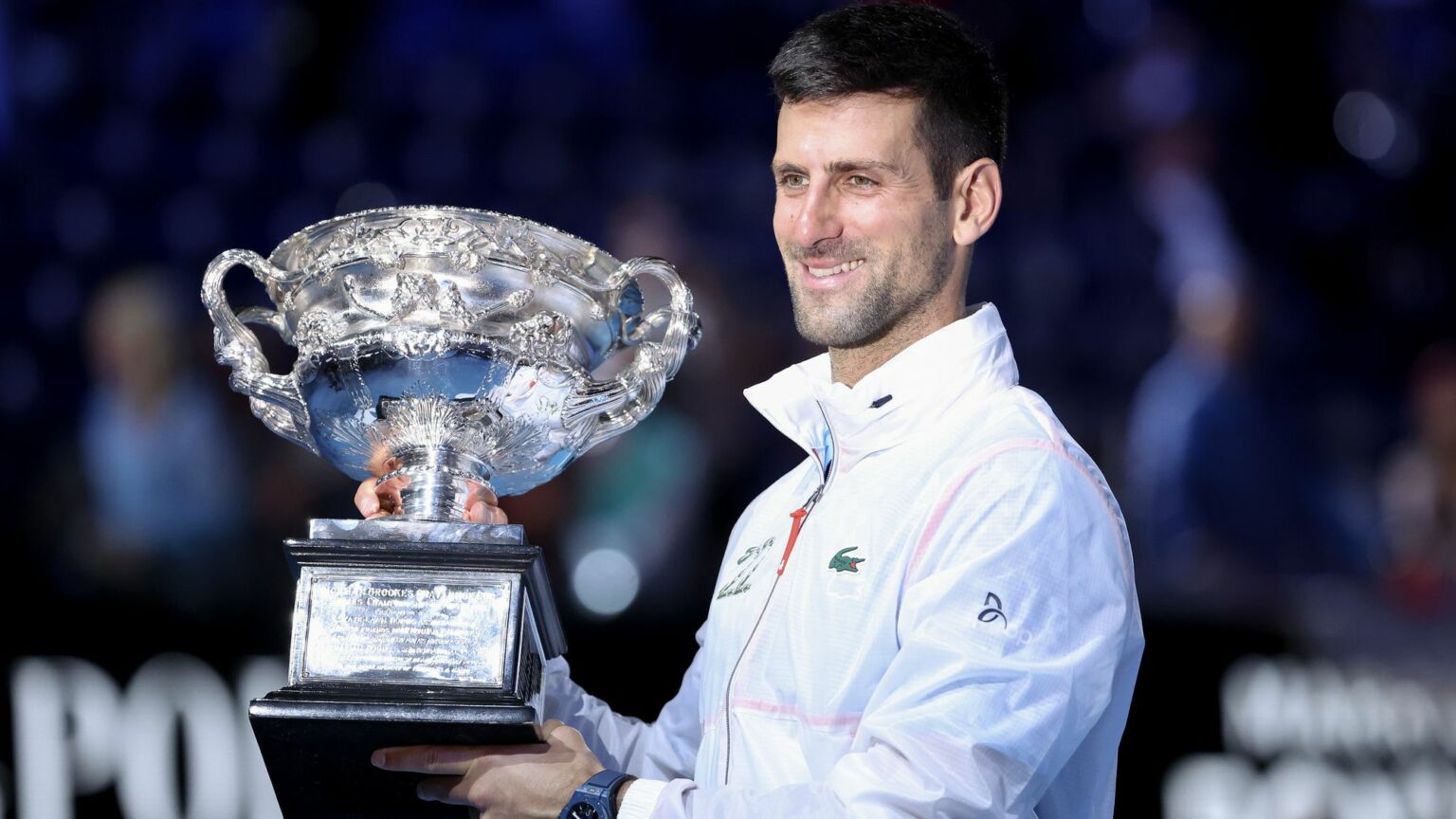 Revenge, it seems, is best served with a powerhouse forehand. That's what Novak Djokovic did at the US Open yesterday. After three hours and 16 minutes of the most intense tennis, he defeated Daniil Medvedev, almost 10 years his junior, with a shot Medvedev just couldn't return. But it wasn't only his Russian opponent he humbled – it was the lockdown elites, too. It was that old Zero Covid fanaticism, which had hit the famously unvaxxed Djokovic especially hard. Having been frozen out of some grand slams for his apparently 'arrogant' refusal to get the jab, Djokovic has now stormed back in to remind yesteryear's petty Covid tyrants of his greatness – and their folly.
Some in the press are calling Djokovic's stellar performance at the Arthur Ashe Stadium in Queens, NYC a 'revenge mission' against Medvedev. Medvedev thrashed him in the 2021 US Open, beating him in straight sets. In the process, he prevented Djokovic from becoming the first man to win all four Grand Slams in the same year since 1969 (when Aussie tennis legend Rod Laver achieved that mad feat). That will have stung the perfectionist Serb, for sure. But yesterday's final was surely a 'revenge mission' for the 2022 US Open, not 2021. For something worse than defeat faced Djokovic in 2022 – he wasn't allowed to play at all.
Under Joe Biden's scientifically questionable ban on unvaxxed non-Americans entering the country, Djokovic was locked out of the United States for almost two years. Biden issued his presidential decree forbidding the arrival of unvaccinated non-citizen air travellers in November 2021. It was only rescinded this year, on 12 May. Of course, every nation has the right to enforce border rules. But as Joel Zinberg at the New York Post points out, the stringent ban on unvaxxed foreigners made little sense for Djokovic, given he'd had Covid twice, in June 2020 and December 2021. Experts agree that natural immunity from infection is pretty good. A meta-analysis published in the Lancet describes the level of protection provided by infection as 'high'. This is why some countries, including Britain, permitted arrival upon proof of either vaccination or recovery. Not Biden's America, though. They kept out all the unvaxxed for two crazy years.
It was an unnecessarily harsh regime that called into question the lockdown elites' claim that they were just 'following the science'. What is scientific about forbidding entry to people who will have solid immunity to that virus you're worried about? Especially a super-fit 35-year-old – Djokovic's age in 2022 – who is about as far from a plague-carrying rat as you can get. Zinberg says Biden's scientifically iffy restriction on unvaxxed non-Americans was driven by political concerns rather than health ones. Determined to keep vaccination levels high, the administration 'refused to acknowledge the existence of natural immunity following infection'. In short, the travel rights of unvaxxed outsiders – not to mention America's right to benefit from their tourism – were sacrificed to the vax mission within America itself. Surely it's possible both to encourage vaccine uptake and be honest about the existence of natural immunity? We're grown-ups. We can handle information.
This is what makes Djokovic's victory yesterday taste so sweet: the man ridiculously treated as a health threat has returned to demonstrate his prowess before the world. The tennis champ whose exclusion in 2022 made no scientific or moral sense has emerged victorious in 2023. And of course there's the delicious irony that Moderna is one of the sponsors of this year's Open. And that Djokovic's winning forehand was named the 'Moderna Shot of the Day'. You don't have to be an anti-vaxxer who spends every day babbling online about 'experimental gene therapy' and barking at 'the sheeple' who got jabbed to think it's funny that probably the best-known unvaxxed man in the world is now being publicly praised by a vax-maker. I think the Covid vaccination programme was an extraordinary achievement and even I can smile at that.
The demonisation of Djokovic over the past two years has been intense. He was turned by lockdown fanatics into the human face of the Covid Peril. He was the plague personified, his 'arrogance' depicted as a threat to life and limb. The media found him 'guilty of bad form' when he said he would not be getting vaccinated. We were told that he summed up the lethal cockiness of those who would dare to defy Covid rules. His belief that there should be 'no curbs on his lifestyle' might 'encourage others in the same selfishness', said one observer. 'The selfishness of Novak Djokovic', read a headline in the Atlantic. He was slammed for being someone who would 'rather create chaos than get a shot'.
Then there was the scandal of the Australian Open. There, too, Djokovic was treated as a diseased menace. He was initially given a medical exemption to play unvaxxed in the 2022 Australian Open, but he was detained by border officials upon his arrival. A court ordered his release, but the immigration minister still revoked his visa on 'health and good order grounds'. He was sent packing. He was ridiculed in the liberal media and branded the 'king of stupidity'.
Australia's shocking treatment of Djokovic – as if he were a one-man vector of plague – was brazenly ideological. This was about the Oz elites refusing to allow any crack to appear in the facade of their Zero Covid regime. If they had let Djokovic stay, you see, it would have raised sticky questions about the tyrannical border controls they had ruthlessly enforced against the virus. And so he was kept out, to spare the blushes of the authoritarians. A sacrificial lamb for the withering legitimacy of Zero Covid. He got his revenge there, too: he won the Oz Open in January this year.
America and Australia's irrational bans on Djokovic – and on countless other unvaxxed souls – are a reminder of officialdom's rashness in the Covid years. Lingering travel bans, a reimagining of the individual as a threat to 'health and good order', the downplaying of scientific facts, the making examples of the 'selfish' who wanted to enjoy governance over their own bodies – it was this regime that was stupid and arrogant, not Djokovic's longing to play tennis.
To enquire about republishing spiked's content, a right to reply or to request a correction, please contact the managing editor, Viv Regan.