Fiddling while Ohio burns
The Democratic elites aren't even pretending to care about the East Palestine disaster.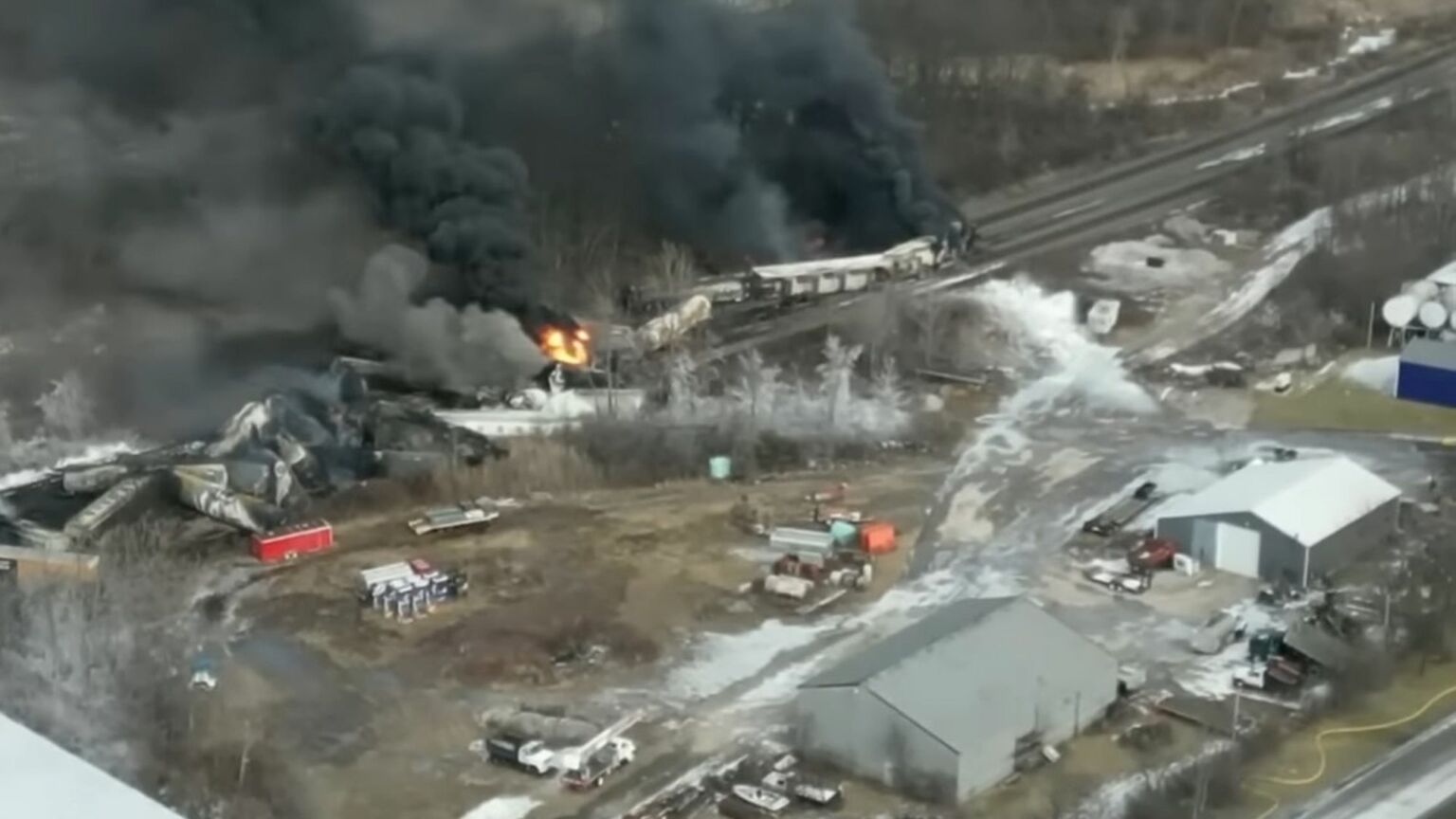 I'm calling it. We have finally hit rock bottom. Aided and abetted by the craven corporate media, the American liberal-left establishment has pushed the boundaries of ineptitude to the point of parody. And now Donald Trump is poised to steal the left's lunch, eat it and let it swirl around in the toilet – along with the liberal elite's political credibility.
Last week, Donald Trump's re-election campaign announced plans to visit the small town of East Palestine, in Columbiana County, Ohio. This is the town where, several weeks ago, the powers-that-be deemed it a good idea to set fire to a derailed train that was carrying large amounts of poisonous chemicals. Ever since, East Palestine's working-class residents have been posting videos of the aftermath on social media. These show dead animals, skin rashes, rainbow-coloured water and desperate pleas for help. Meanwhile, federal and state officials largely ignored the matter.
Today Trump came to town. Dear reader, it doesn't matter if you think Donald Trump is literally Hitler, a conman, a showboat or a female-genitalia-grabbing, corrupt Russian asset. Or even if any of that is true.
The fact is that the supposedly progressive left and its liberal allies have enabled him to swoop into places like East Palestine because they themselves have long abandoned the working-class folk who live there. If you are horrified by Trump, then you should be even more aghast at the progressives who created him.
Regular working Americans have been ignored, betrayed and impoverished over the past few decades. And the very party who for years promised to help them is now fiddling while those communities burn – literally, in the case of the Ohio explosion.
As a huge cloud of smoke carrying known carcinogens spewed into the sky above eastern Ohio, Josh Shapiro, the Democratic governor of neighbouring Pennsylvania, said the process was going 'as planned'. Apparently, 'no concerning' air and water readings had been registered, so there was no reason to panic.
Meanwhile, US transportation secretary Pete Buttigieg – whose notable achievements include taking a months-long paternity leave during a shipping crisis and calling highways racist – finally made a public appearance at a conference, 10 days after the derailment. He used the opportunity to rail against overly white construction crews. Even though a key part of his portfolio is the safety and integrity of American rail networks, 'Buttigieg failed to mention the train carrying vinyl chloride, a dangerous colourless gas', reported Fox News.
From the very beginning, government officials have been reluctant to acknowledge the full scale of the accident. According to reports, the Biden administration initially rejected Ohio's request for assistance. It then took 17 days after the original incident for the US Environmental Protection Agency (EPA) to reveal who was responsible for the decision to burn the dangerous chemicals (it has passed the buck to a local fire chief).
In the final pièce de résistance, on Monday, President Joe Biden paid a visit to… Ukraine. As footage of Biden in Kyiv hugging it out with Zelensky pinged around social media, footage of an explosion in a metals plant in another town in Ohio was also circulating. One person was reported to have been killed and at least 13 were hospitalised.
So, what have the heavyweights of the American media been covering as all this has unfolded? While some coverage of the East Palestine disaster has trickled in from the TV networks, much of yesterday's airtime was devoted to interviewing the forewoman of a grand jury in Georgia, where prosecutors are trying to indict Trump on charges dating back to the 2020 election.
To be fair, at least one left-wing commentator has been taking the Ohio problem seriously. Briahna Joy Gray, former press secretary for Bernie Sanders, has been vocal in calling out the government's negligence and has rightly pinned it its abandonment of workers. But sadly, much of the left has shown its true colours.
Picture by: YouTube / BBC News.
To enquire about republishing spiked's content, a right to reply or to request a correction, please contact the managing editor, Viv Regan.