How the left and right switched places
It's now the left that views Man as fallen and corrupt.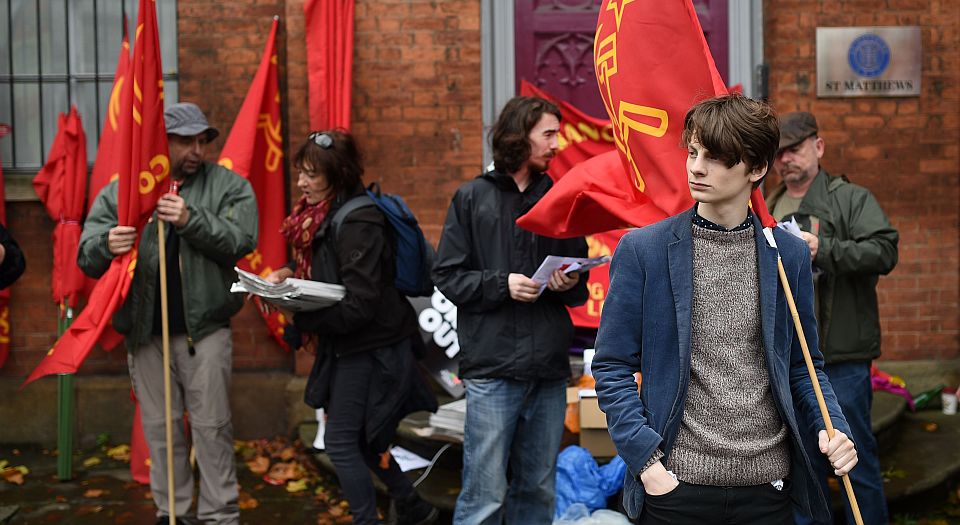 It has been such a cliche of the past 30 years that it is sometimes barely worth repeating: 'We live in a world beyond left and right politics.' Such 'labels in a post-communist world no longer have any meaning', continues the spiel. Furthermore, the rise of Islamic fundamentalism in the Noughties and the emergence of political populism this decade both dictate that such definitions are now especially redundant.
I've never bought into this argument. There will always be left-wing people and right-wing people. Basically, the former think people are essentially good and the latter warn that people are foremost bad. There are optimists and there are pessimists in life. 'Left' and 'right' may themselves be only 200 years old, but humanity has always been divided between these two types of people, and always will.
What has changed in the 20th century is that right-wing people are more difficult to spot. This is because the new conservatives tend to mask themselves as 'progressives', 'liberals' or 'left-wing'. Observe this perverse, paradoxical switch: from campus to Corbynista to Guardian newspaper columnist, it is the ostensible left that is now the most intolerant, humourless, miserable, pessimistic, censorious, puritanical, finger-wagging, backward-looking, prole-hating lot these days. The modern left are the new reactionaries.
It is those on the left who censor people for their 'offensive', blasphemous words. It is they who pull down statues. It is the modern left that hates the accursed, ignorant masses for daring to vote for Brexit or Trump. It is the left which is now infused with nostalgia — for a Golden Age of a European Union or NHS. It is the left that will sermonise to the masses about their wrong tastes in food, newspaper or political party.
It is the puritanical left as embodied in Momentum, Black Lives Matter and Antifa that goes around bullying and assaulting stupid, poor people for their unacceptable and uneducated opinions. It is left-liberal environmentalists who protest that Man is reaping the whirlwind for the sin of despoiling the planet.
In short, it is the modern left that now believes humanity is essentially bad, inherently fallen. Meanwhile, where is the hatred for mankind emanating from conservatives? It seems to have evaporated. Old-fashioned conservatives today speak in terms of solutions, not problems.
So, no, left and right are no longer meaningless labels. It's just that one means the other these days. And the other way round.
---
We're all Catalans now?
In the wake of the appalling scenes in Catalonia at the weekend, in which we saw Spanish state police beat up old ladies and children, it seems that everyone in the world (with the exception of the European Union) is in sympathy with the Catalan people.
Here in Britain, the only people hitherto to have taken much interest in Catalonia recently have been Scottish nationalists. They have made common cause in past decades with these Iberians also seeking to liberate themselves from an oppressive, post-imperial kingdom that doesn't understand or care for them. It's always been a spurious alliance. Scotland has infinitely more cultural connections with France and Italy than Catalonia. And Catalonia under Franco faced the kind of cultural, linguistic and political oppression unheard of in Scotland in the 20th century.
Still, the two have made common cause in living memory, and it is common to see the Saltire and the Estelada side-by-side at football games and rallies. But a funny thing has happened this week. Now it seems that everyone has been making common cause with the Catalans.
Liberals naturally took the side of poor old Catalonia, with the BBC, the Guardian and Le Monde, among others, speaking of the events on Sunday as akin to Bloody Sunday in Derry, 1972: an example of an oppressed minority people clearly being oppressed even more by a colonial state. So no wonder that this week Sinn Fein (previously chums with the Basques — now unfriended) has also weighed in, with Gerry Adams condemning the 'brutality' of the Spanish police.
Not to be outdone, on social media and in the letters page of the Daily Telegraph, many conservative English people have also been lending their solidarity. For historical reasons, this shouldn't surprise us. England, and then Britain, was the historical ally of Catalonia against Spain from the 17th century until 1814. And equally unsurprising is the current motive among English conservatives to cheer on the Catalans: to give the Spaniards, forever threatening Gibraltar, a bloody nose; and secondly, to disrupt the balance of power in Europe — namely, in our times, the European Union. To be pro-Catalan is now to be pro-Brexit by proxy.
Yes, we were horrified by the scenes in Barcelona and Girona at the weekend, but for all the messages of sympathy, it does make you wonder how sincerely such words are meant. This applies foremost to the Scottish Nationalist Party, which began such highly suspicious displays of solidarity in the first place.
---
Ben Elton: a defence
Ever since he stopped being a 'radical' comedian in the late 1980s, and started writing novels and musicals, Ben Elton has been a kind of persona non grata among the liberal smart-set. There has been a silent consensus that – much like Alexei Sayle's Dracula character in The Young Ones – he has 'sold out'.
Personally, I could never hold a grudge against the co-creator of The Young Ones, or indeed the Blackadder series, which summed up perfectly middle-class angst with increasing bitterness. Elton was never really 'radical' for this reason: his best humour has always been essentially suburban. This is why the radical revolutionary in The Young Ones is portrayed as such a classic London prick.
As scriptwriter, Elton is currently back on our screens for a second series of Upstart Crow, his comedy based on the life of Shakespeare. It is an utter treat, especially for people such as myself who have loved, but struggled with, the Bard. It does what the 1998 film Shakespeare in Love does – and more. It portrays Shakespeare less as a genius, and more as a jobbing hack and cultural magpie, as someone who will lift words and stories from whatever source he sees fit.
Upstart Crow is (once more) a tale of middle-class frustration. Shakespeare's foe here is the Cambridge graduate dramatist Robert Greene, who despises this little-educated 'upstart crow' from the Midlands mainly for reasons of class. Greene is the heir to those snobbish conspiracy theorists who don't believe that such a normal bloke from Warwickshire could have written those masterpieces. Elton reminds us that he could have written them, and more through cunning than through genius.
Patrick West is a spiked columnist. His new book, Get Over Yourself: Nietzsche For Our Times, is published by Societas.
To enquire about republishing spiked's content, a right to reply or to request a correction, please contact the managing editor, Viv Regan.