How Trump triumphed in the battle for legitimacy
His victory speaks to an historic crisis of the American political class.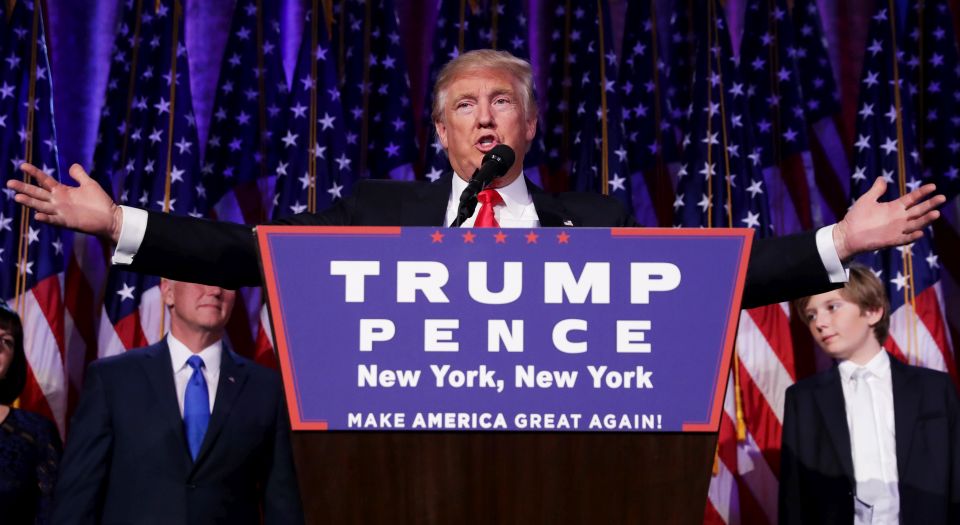 There was a time when it could be assumed that the citizens of the United States more or less signed up to what was called 'the American way of life'. There were bitter political conflicts and tensions, yes, but the public rarely questioned the rules of politics or the legitimacy of the institutions of governance.
Times have changed. Today, significant sections of the American public no longer accord the political class and its institutions with automatic respect. The American establishment's loss of moral authority, and its corresponding behaviour and attitudes, serves as the background to the 2016 presidential election.
Many factors led to Trump's victory, but the principal reason he succeeded is because he exploited this loss of legitimacy among America's political and cultural elites. He succeeded because millions of Americans did not believe, or much care about, what the media told them. They have come to regard opinion polls, political pundits, celebrity commentators and the Washington-based political class as unworthy of their trust.
In recent months, the two main presidential candidates depicted one another as unfit for office. Trump's chant of 'lock her up!' was about both criminalising and delegitimising Hillary. She went a step further, targeting not only Trump but also his millions of supporters. She questioned their moral status. Huge numbers of them were a 'deplorables', she said, who were 'irredeemable'. This implied that these citizens were not really fit to vote. Members of the Washington establishment piled in and denounced Trump as an 'illegitimate candidate'. In an article titled 'Why Trump is illegitimate', Robert D Kaplan denounced Trump's 'trashiness'.
In the end, it was Trump who benefited from America's legitimacy deficit. His claim that the presidential election was 'rigged', and therefore the outcome could not be trusted, provoked the wrath of the American media. But it resonated with millions of voters. According to an Associated Press/GfK poll, most of Trump's supporters said they would have serious doubts about the legitimacy of the election if Hillary won.
Trump's opponents denounced him for breaking the rules of the game by calling into question the legitimacy of the election process. His denunciation of the process was described as a 'striking rupture of faith in American democracy'. What really concerned the political class was that Trump's tearing-up of the rulebook would expose the Washington establishment's moral authority to unprecedented public scrutiny. In such circumstances, large sections of the electorate ceased to take seriously what they were told by officialdom and the media. Through drawing attention to the legitimacy deficit of the establishment, Trump managed to marginalise the influence of the media and politicians over much of American society.
Trump was by no means the only political figure who benefited from the legitimacy deficit. Before him it was the Democratic hopeful Bernie Sanders who was denouncing the 'rigged system' of choosing delegates favoured by the party machines. In an article titled 'Clinton's spectre of illegitimacy', New York Times columnist Charles Blow accused Sanders of corroding voters' confidence in the electoral system.
Trump's political opponents seemed to be completely unaware of the scale of their isolation from sections of the American public. As political analyst Thomas Frank pointed out, as the race unfurled the Washington establishment and the media continued to act as if it was business as usual. They uncritically supported Clinton and refused to acknowledge that she had many flaws. Frank describes how opening a newspaper felt like 'tuning in to a Cold War propaganda station'. Like the arrogant elites of the 19th century, the American political class tried to defend its authority by pathologising its opponents. Many thought that only 'botched humans' could support Trump.
For several decades, the Washington establishment has tried to compensate for its loss of authority by questioning the moral status of sections of the public. It has relied on a form of negative authority that contrasted its superior, 'aware' values to those of the deplorables. Barack Obama adopted this approach in April 2008, when, during the course of the presidential campaign, he gave his 'Bittergate' speech. Reflecting on his difficulty in winning over white working-class voters in the Pennsylvania primary, he said: 'It's not surprising [that] they get bitter, they cling to guns or religion or antipathy toward people who aren't like them or anti-immigrant sentiment or anti-trade sentiment as a way to explain their frustrations.' In 2008, this casual putdown of white working-class voters raised a few eyebrows but didn't provoke a major reaction against Obama. Eight years later, Hillary's attempt to delegitimise these 'deplorables' proved more problematic, drawing attention to her lack of moral authority.
In an attempt to confirm Trump's lack of legitimacy, newspapers reported that 'no former US president appears to have cast a vote for Donald Trump in an unprecedented snub for a major party candidate'. The real story here is that millions of Americans decided not to follow the example set by President Obama and ex-presidents Bush, Clinton and Carter, indicating that the authority, outlook and conventions that these ex-presidents represent now rest on very fragile foundations.
Frank Furedi is a sociologist and commentator and author of the What's Happened To The University?: A Sociological Exploration of its Infantilisation (buy this book from Amazon(UK)).
To enquire about republishing spiked's content, a right to reply or to request a correction, please contact the managing editor, Viv Regan.